Top Adult Halloween Costumes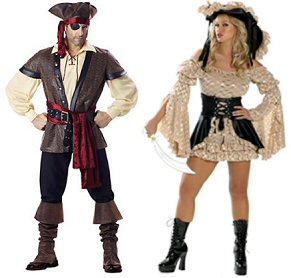 Who says that celebrating Halloween is just for kids?
This year, an estimated 70 million adults—the highest number ever and more than one third of the U.S. adult population, will dress in costumes to celebrate Halloween.
What to wear? According to a survey of 100 of America's biggest costume rental companies, pirate garb tops the list of the most popular outfits adults will don this October 31st.
Here—hot off the presses—is the 2008 list of most in-demand costumes throughout the country, just released by the humorously named company that sponsored the survey--FAT bastard wine:
Pirates: -- The most called-for costume, named by 38% of the experts, is the swashbuckling look inspired by the incredible popularity of Johnny Depp's character in Pirates of the Caribbean.
Super heroes: -- The number two pick reinforces the notion that motion pictures influence consumer taste in almost everything, as another 31% said super heroes are superior looks this year. Death-defying disguises include Batman (19%), Spiderman (6%) and other unspecified super do-gooders (6%).
"Ordinary" movie characters: -- That is, those without super powers -- are third on the list with 24%. Top billing goes to The Joker (6%), Indiana Jones (4%), and various individuals from Star Wars, Lord of the Rings, Harry Potter, and Shrek.
Royalty: -- Roughly 19% of costumed adults will choose to emulate the royals of history. From Marie Antoinette, Queen Elizabeth and various unspecified princesses to Medieval and Renaissance personages, crowns will weigh heavy on many Halloween goers' heads.
Disco darlings: -- What was it about the 1970's? Some 14% will opt for looks from the disco era when big shoulders and John Travolta's white polyester suit held sway with the fashion-forward.
Sexy women: -- Another 14% will venture out dressed as every guy's fantasy: nurses, Barbie dolls or French maids. In fact, according to the costumers, there now are sexy versions of Little Bo Peep, Snow White, etc.
Roaring 20s characters: -- Gangsters, flappers and oddly dressed swimmers will represent the 1920s. About 12% of Halloween revelers will bring back the good old days of bathtub gin and the Charleston this year.
Soldiers --Whether they're being patriotic or playful, 8% will choose military garb this year.
Animals: -- About 7% will choose to dress as an animal for their trick-or-treat look.
Police officers: -- Just the facts, ma'am. Some 6% will choose to come to the Halloween party dressed as cops.
Don't forget to Enter our"Cutest Trick-or-Treater" Halloween photo contest for a chance to win $250!
You might also enjoy:
More ways to make holidays memorable