Tips to help you enjoy a spa-centered celebration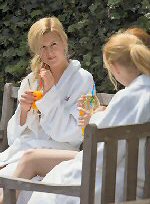 Many destination celebrations are held at resorts or hotels that have spas. Nothing is more luxurious than celebrating a birthday or bachelorette party and receiving star treatment and attention by spa professionals.
Whether you go for a day, a weekend, or longer, here are some helpful hints on how to be sure you feel great after enjoying the activities that are at the center of your special occasion celebration.
Eat an hour before exercising: To avoid feeling stuffed or bloated, it's a good idea to refrain from eating for at least an hour before heavy exercise classes or spa treatments.
Save the wine for later: Wait until dinner to enjoy a cocktail with your friends. Avoid alcohol before exercise and spa activities. Conversely, it's a great idea to drink plenty of water (at least 8 ounces) before and after long hikes and heavy-duty fitness activities. Other good choices: Mineral water and fruit or vegetable juice.
Avoid dehydration: Saunas and steam rooms will definitely help you relax and unwind. To feel your best afterwards, it's important to avoid dehydration, which, at very least, can cause dizziness. It's a good idea to drink a glass of water before going into the sauna. When you're finished, a glass or two of mineral water or juice will replenish fluids lost by sweating.
Don't overdo it: Experts also advise that you limit your initial time in the sauna to 10 to 15 minutes (perhaps less if you're new to the experience) before leaving to cool off a bit, or take a quick shower. Then, if you wish, you can go back for another session. Generally, two to four cycles is the norm.
Exercise before, not after, spa pampering: Schedule physically demanding activities such as hiking or mountain biking before your spa treatments. A quick shower before spa treatments is a must. Then, shower again after you're finished with the sauna (and be sure to moisturize your skin). If possible, allow some time for relaxing or a restful nap before meeting your friends for drinks and dinner. That way, you'll be in great shape to enjoy the evening festivities!
For more information on spas, details about finding great spa destinations, purchasing spa gift certificates, and to learn about the "Girlfriend Getaway"-type group specials that are becoming more popular at spas everywhere, click on the Spafinder logo image, below.
You might also enjoy:
More how-to's for great get-togethers