Christine Merser, Owner, Water Mill Party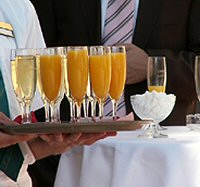 Lower-cost beverages: Like many other experts, Merser has noticed a big change in event food and drink service. "There are rarely open-bars now," Merser says. "Signature drinks and wine are the way to go financially."
Small cake for show: Along the same lines, Merser suggests having a small cake to show guests, and larger, much less expensive sheet cakes in the back for actual dessert service.