Christine Merser, Owner, Water Mill Party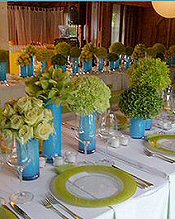 Image courtesy of
Watermill Party
Save on fundraiser table décor: Lighting can work wonders in adding drama to flowers. With clever lighting, you can add big effect for little cost.
Most event planners and caterers are discovering the "Wow" effect that candles provide, as well as the cost-cutting advantages of using them as part of party decorations. "We have our own candle factory in Nebraska where we fill our own votives; they burn better than the dollop of candle dropped into most votives," she adds.
Also, she suggests, for a trendy look as well as a cost-effective strategy, create each table's flower arrangements so that each looks slightly different, but with a common theme, such as color or shape.
Buy in quantity: Start checking for useful items to buy while you still have months left before your event. "Go to eBay to buy inexpensive items to personalize your event," Merser advises.
"For example," she points out, "you might wish to buy antique salt and pepper shakers that you can use on each table as part of an overall design theme."
Buy other containers for less, too: "If flowers aren't flown in from Holland, of course they're much less expensive," notes Merser, echoing a green-party theme that's growing in popularity, as well. In addition, she points out, vases and containers sometimes can be more expensive than flowers. "Buying containers with a common theme on eBay saves money," she says.
[Editor's note: Another excellent source for inexpensive vases is www.save-on-crafts.com . We've seen lovely 5-inch glass vases for as little as $1.38 each, when bought in quantities of 24. IKEA also offers extremely inexpensive vases and glazed plant pots in their stores; many items are not available online, however.]