Christine Merser, Water Mill Party
By Laurie Bain Wilson
Water Mill Party, a party rental business based in Water Mill, NY, specializes in providing "the best in party products and props" for high-end Hamptons' events—many of which are charity fundraisers. Owner Christine Merser says that surprisingly, during the summer of 2008, her company already has more reservations for 2009 than it ever has had one year in advance.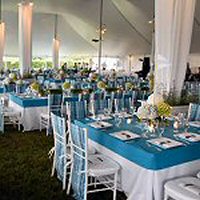 Image courtesy of Water Mill Party
"I think people are trying to lock pricing in," she explains. By reserving now, she adds, clients have more time to save to pay for their events.
Save big bucks on fundraisers
Here, Merser offers some budget-friendly party ideas that can be especially useful if you're on the committee charged with planning a huge fundraising gala.
Use what your vendor has on hand: Some planners of fundraisers or business galas want their event atmospheres to be nothing less than dazzling—which can mean custom table linens, ceiling fabrics, or props. "We tell organizations if they let us use products that we already have on hand," rather than having to add to our inventory, "we can give them a better price per person."