Barbara Rodriguez, Morton's The Steakhouse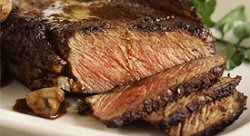 Image courtesy of Morton's The Steakhouse
Consider what a restaurant is known for. Rodriguez also notes the trend among some consumers to cut back on red meat. "For 30 years, Morton's has been known for great steaks," she says. "And we're not going to compromise on the quality or preparation of steaks. That being said," she continues, "we do listen to our patrons. We offer seafood, chicken, and vegetarian options on our à la carte and private dining menus."
Go for quality in alcoholic beverages. "We are seeing a decrease in the amount of alcohol diners are consuming. At the same time, we're seeing increased interest in the quality of alcohol consumed," says Rodriguez. "Diners are more selective in their beverage consumption; they'll opt for one bottle of a very good wine rather than two of a lesser grade. They also now seem to prefer a cocktail infused with fresh herbs rather than one with a multitude of mixers."
Ask for dessert choices. "Morton's Legendary Hot Chocolate Cake" is still our number one dessert seller," says Rodriguez. "But with business groups, we're also noting requests for sorbets or plates of mixed berries, to give guests a lighter option."
Click here to visit the Morton's Web site