Guest Bags for Out-of-Towners
What to include: Most of all, "Thank you"
Let guests know how happy you are that they came:—A warm greeting is the most important item to include in the gift bag. A personal, handwritten note is always best.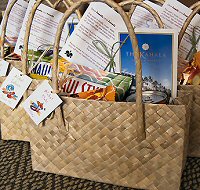 Schedule of events for the entire weekend:—Help put everyone at ease. Let them know exactly what's going to happen, what day, where, and at what time.
Clear directions:—Provide everyone with printed directions to every place on the weekend's agenda!
Give specific street names, distances, landmarks—any and every detail that will help guests and assure them that they're going the right way—e.g., "At the bottom of the hill, you'll see a large bronze statue on your right. Continue going straight. At the next traffic light, about 1/4 mile ahead, make a left onto Main Street."
Most hotels, reception sites, and catering halls offer direction cards and maps. Ask for enough to give two sets to each out-of-town family or guest; one to include with the invitation—another for the gift bag.
Map of the larger area:—Convention and visitors' bureaus will have maps you can hand out. Any popular tourist area should have detailed maps showing restaurants. shops, anad special attractions.
A list of your own favorite places:—Put together a list of places that you and your family particularly like—for example, where to go for good coffee or a light lunch, or ice cream. Note drug stores, shopping centers, or even movie theaters, if people will have a lot of free time.
Be sure to include nice places to go for a leisurely stroll, a scenic walk, or a morning run. Also include home and cell phone numbers for several different contacts.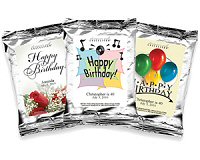 Special treats:—So far, you've filled your guest bags with items that cost nothing! Now get really creative and clever. Some ideas:
Pieces of fruit, such as apples, which will stay fresh for a few days
A bottle or half-bottle of wine
Scented sachets or soaps, for hotel room drawers
Little bags of gourmet tea (pictured at right) or coffee.
A couple of individually-wrapped fresh-baked cookies (home-baked or bought from a local bakery)
Small jars of jam made by local merchants
Inexpensive souvenir items—small coin purses, bookmarks, keychains, postcards with images that represent what the town or region is known for
Small bags of nuts, dried fruit, or trail mix
CDs related to the event
Candy or mints, bought in individual packages, or bought in bulk and scooped into clear cello bags that you tie with pretty ribbon.
Image by Only.Time at Flickr.com
More how-to's for great get-togethers