Guest Bags for Out-of-Towners
By Corinne Zachary
Any large milestone-event party means that a number of family members and friends will be traveling to attend the celebration.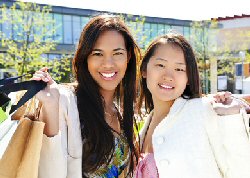 Top party priority:—Here's a must for your "To Do" list: Be sure to provide guest bags for out-of-town guests. Whether inexpensive or lavish, the guest bags say, "Thank you" for the time, effort, and expense that guests have gone to in order to be with you for your special occasion.
Guest bags make people feel welcome, and help them entertain themselves while they're away from home--and there are blocks of time for them to fill while you're getting ready for the big event.
Here are some guest-bag basics:
THE GIFT CONTAINER
Make it easy for them:—Bags are great. Guests can fold and pack them in their suitcases. Choose nylon, canvas, palm leaf, or paper that's lined with sheets of colorful tissue paper.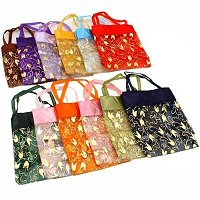 Guest bags in party colors:— Use the colors that will be featured at the party. Or perhaps have fabric bags printed or embroidered to commemorate the event.like these beautiful Organza Gold Flower Tote Gift Bags, shown on the right, are ready to be filled. All you have to do is add name tags.
Or simply tie kraft paper bag handles together with colorful ribbon to make them look special.
Painted buckets, boxes, or baskets bought from craft stores or mass merchandisers can be pretty alternatives. They're best, of course, for guests who don't have to worry about carry-on luggage.
More how-to's for great get-togethers