The Latest Trends in Fancy Desserts
By Carole Jace
Want to ensure that your dessert party or the last course of your celebration menu reflects the latest "what's-hot" trend? Make a simple request of your caterer or restauranteur: "Tiny desserts, please!"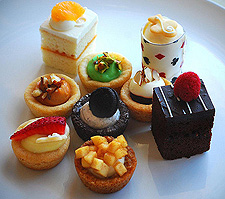 Recently, the National Restaurant Association surveyed more than 1,000 chefs about the hottest menu trends in the U.S. today. The overwhelming winner: Bite-sized desserts. A full 85% of chefs rated delectable mini-sweets as "Hot."
Within the dessert category, the runners-up were: sorbet/gelato (named by 59% of chefs as "hot"); chocolate desserts (58); fresh fruits (55); and ice cream (41).
Interestingly, while fresh fruit still ranks among the most popular overall dessert choices, some fruits make today's A-list, while others have been relegated to has-been status. The fruits du jour: pomegranates (63); followed by figs (55); mango (53); passion fruit (48); and papaya (46).
And on the "so-yesterday" fruit list: star fruit (named by 65% of chefs as passé); kiwi (63); cantaloupe (47); and grapes (44).
To accompany your tiny cheesecakes, or decadent chocolate swirled in shot glasses and topped with just a touch of whipped cream, offer your guests espresso and/or specialty coffees. The tea craze notwithstanding, roughly 71% of the chefs rated specialty coffees the "hottest" hot beverages.
Image by Benlauis on Flickr.com
TRY THESE EASY, FANCY DESSERTS
If you're looking for a quick and easy way to serve your guests beautiful, delicious desserts, check out our features that have several recipes from which you can choose:

4 fancy strawberry desserts: Simple and delicious
Pretty and easy puff pastry shell desserts
Trendy, chocolate-y desserts
5 easy gourmet ice cream desserts
Fancy dessert dips: Fast, pretty, healthy
More delicious food for parties