Featured blog: The Bite Club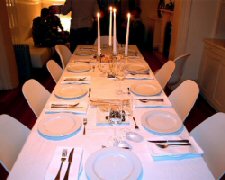 We're delighted to feature the next in our series of wonderful Celebration blogs. This one's from a self-described foodie and amateur photographer from Australia who simply calls himself "Pete."
Pete writes that he is a 36-year-old of Greek descent, who grew up in Melbourne and now lives in Sydney.
His primary blog, Souvlaki for the Soul, features lively writing and gorgeous photos—mostly about his culinary passion—Mediterranean food. He describes dishes that he likes to prepare and usually offers up recipes plus mouth-watering images of those he creates.
Souvlaki for the Soul is thoroughly enjoyable. But what caught our attention is Pete's "sub-blog," if you will. It's the chronicle of a group of his close friends who meet and cook dinner for each other on a rotating basis.
"Bite Club"
"BiteClub" is a wonderfully clever take on the celebration of friends and good food that we absolutely love—the progressive dinner party.
Here, according to Pete, is how "Bite Club" works.
"1) There are 14 people in total, all divided into sub groups. Every sub group gets the chance to host a dinner party at their place every second Tuesday. All done on a rotating basis.
2) Three courses are to be cooked, although this is flexible.
3) Every course has to be cooked, from scratch, by the individuals who are hosting that night's dinner.
4) No take-away!!!!.....That's cheating!!!
5) Maria and Jason usually bring the most wine!!!!
"It's a great idea!!!....I absolutely love it. It not only bonds everyone through food but it's a great chance for everyone to get out of their comfort zone and try something different..."
One post about the "Bite Club" that we especially enjoyed was called "Five Courses Later...," about a meal hosted by Peter's friends Paul and Albert on June 15, 2007. The photo above shows how the table looked when Pete arrived that evening.
Here are some excerpts from the "Five Courses Later...." post. [Note: These are photos from the blog (Pete also posts images on Flickr). We're only showing images of the imaginative appetizers; the other photos are beautiful, too.)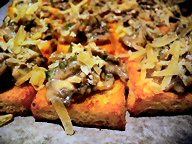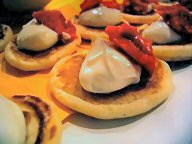 "We began the evening with drinks and a sexy selection of mouth watering morsels. Otherwise known as little cocktail bites or canapes with character. We began with miniature toasts with mushrooms and parmesan (above left) and soft blinis with cream cheese and a roast capsicum [Editor's note: In the U.S., capsicum is usually called bell pepper] tapenade (above right). Gone in 60 seconds! Delicious."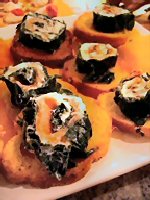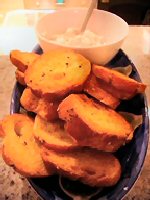 Next, he writes, Paul and Albert served guests two types of crostini, one topped with slices of a spinach, smoked salmon and cream cheese roulade (above left); the other, with taramosalata (above right). Pete explains, "Taramosalata is a Greek dip...which uses fish roe blended with boiled potatoes or bread and mixed with olive oil and lemon juice. He says, "There's an old Greek grandmother myth about the color of the dip. The lighter the color the better the quality."
The main course kept with a Mediterranean theme, Pete reports. The men prepared lamb shanks cooked in a tomato and red wine sauce. They accompanied it with sour cream and honey mashed potatoes and seeded mustard-baked vegetables.
For this particular dinner, guests had a choice of chocolate mousse with raspberry coulis or raspberry soufflé.
The final touch: coffee served with chocolate-covered shortbread.
Much more than dinner
Aside from enjoying great meals with friends, Pete says, Bite Club gatherings have helped participants become more adventurous. Of one friend, he writes: "Vanessa couldn't even boil water... Since the Bite Club, she has learned to cook pumpkin risotto, stir-fry noodles with chicken and vegetables, and make the most amazing peanut butter chocolate truffles!"
Pete heartily recommends cooking and sharing meals with good friends: "Call it what you like. It can go by any name. Grab your friends and start putting a schedule together. Get in the kitchen. Slice, chop, boil or bake. Try different things. You'll have fun and maybe learn a thing or two."
Other celebration blogs:
You might also enjoy:
More expert advice and party planning tips