Thanksgiving Dinner with a Little Help on the Side
By Debbe Geiger
Thanksgiving dinner used to require days of cooking. Not any more. Today, you can turn to talented caterers to provide the whole dinner or to furnish delectable accompaniments to a golden turkey that you've cooked, yourself.
Kitchen Kabaret, an off-premises caterer in East Hills, New York, reports a 65% increase in catering orders during the past five years. "People don't do as much cooking at home because they just don't have the time they had in the past," says Alice Marinucci, a catering consultant there.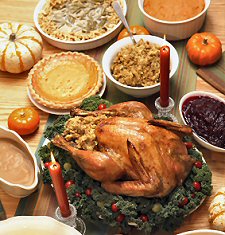 Turkey still the top choice
The classic turkey dinner -- complete with gravy, stuffing, vegetable, white and sweet potatoes -- remains the steadfast favorite for the American holiday. "I don't have a lot of people saying 'I want something different,'" says Marinucci.
Myra Naseem, co-owner of Elegant Eating, in Smithtown, New York, another off-site catering company, agrees. "There's a certain level of comfort that people look for in their food. They like sushi and seared tuna, but don't want to eat it for Thanksgiving dinner. Almost every Thanksgiving order we includes turkey. Or perhaps the homemaker wants to make turkey and get the side dishes from us."
Making the turkey at home is one way for Thanksgiving hosts and hostesses to have the satisfaction of doing at least some of the cooking. Catering the sides eliminates the shopping, chopping, peeling and preparing that really take up the bulk of one's time. "This way, they can get the home-made aromas and flavor," says Naseem, whose company mashes roughly 400 pounds of white and sweet potatoes for the Thanksgiving meals they prepare each year. "The dishes they're buying aren't factory packaged."
New takes on old favorites
Another advantage to using a caterer to help with the holidays is that it becomes easy to serve traditional food with a new, sophisticated flair. The menus of high-end caterers may list soup offerings such as butternut squash bisque, potato leek soup, or pumpkin bisque.
Main courses can also be innovative--e.g. prepared for guests who are vegetarians. Elegant Eating now offers wild rice with wheat berry pilaf made with vegetable stock, and orzo with black beans and corn. "They're complete proteins for vegetarians," she explains.
Caterers say that clients appreciate their efforts. For example, instead of simple cranberry sauce, an Elegant Eating standby that's very popular is a triple berry sauce that combines cranberries, strawberries, and raspberries. In addition to the familiar sweet potatoes with marshmallow topping, they offer a delicious topping of caramelized apples, cranberries and mango.
Creative vegetables
At Kitchen Kabaret, vegetables have an updated look too. "We do a balsamic glaze on seasonal fall vegetables," says Marinucci. "We also have roasted vegetables with honey walnut glaze."
Prices for catered meals depend on the establishment you use for sophisticated take-out and on the dishes you plan to serve. A whole Thanksgiving dinner, complete with appetizer, turkey, gravy, stuffing, potato, and vegetable, can range from $19 to $35 per person. Dessert may or may not be included.
If you only require side dishes, most caterers charge by the pound. On average, the price per pound can run as much as $12 at a popular, high-end catering company. Caterers can help you determine how much food you'll need, but typically, you should figure about one-quarter to one-third of a pound per person for side dishes, and about half a pound of turkey per person. Cooked turkeys purchased à la carte usually run about $5 to $7 per pound.
If you're planning to use a caterer for your Thanksgiving meal, it's a good idea to place your order at least one or two weeks before the holiday. Most caterers will make an attempt to accommodate last minute orders, as well.
Photo credits: Butternut squash bisque from ksl.com; Green beans from Fine Cooking.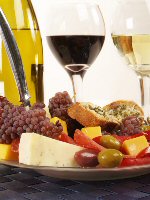 You might also enjoy:
Holiday cocktails for 50
Chef Susan Maddox's favorite holiday recipes
Holiday dinner planning: Easy entertaining timeline
Waist-friendly party indulgences
More ways to make holidays memorable