Thanksgiving dinner recipes from talented chefs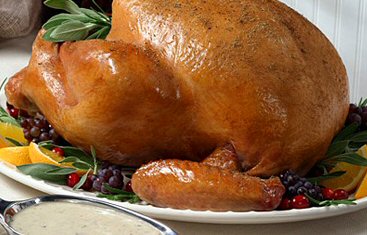 As Thanksgiving approaches, plan a holiday dinner--or a dish that you bring to the family celebration--that is elegant, yet easy to make.
World-renowned chefs from the Culinary Institute of America offer recipes that will add delicious elegance to your family gathering.
Here are several of our favorites:
Roast turkey with pan gravy
Makes 10 servings
One 13-lb. whole turkey
2 Tbs. salt
1 Tbs. poultry seasoning
1 Tbs. Maryland seafood seasoning
1/2 cup, or more as needed, clarified butter or vegetable oil
2 onions, peeled and cut into quarters
12 to 15 sprigs of parsley
2/3 cup diced onion
1/3 cup diced celery
1/3 cup diced carrot
1/4 cup all-purpose flour
5 cups chicken stock
Salt and pepper, as desired
Directions
Preheat the oven to 350ºF.
Place a rack in a roasting pan large enough for the turkey.
Rinse the turkey thoroughly inside and out and pat dry with paper toweling.
Make a rub by combining the salt, poultry seasoning, and seafood seasoning in a small bowl. Rub the skin with butter or oil and season the turkey inside and out with the rub. Place the quartered onions and parsley sprigs inside the cavity and truss with twine. Place the turkey, breast side up, on the rack in the roasting pan.
Place the turkey in the hot oven for 2 hours, basting from time to time. Scatter the onions, celery, and carrots to the pan.
Roast until the thigh meat registers an internal temperature of 165ºF, approximately 40 to 60 minutes more. Remove turkey from the roasting pan and allow to rest while you make the gravy.
Place the roasting pan on the stovetop and cook the vegetables until they are browned and the fat is clear. Pour off all but 2 Tbs. of the fat. Add the flour and cook over medium-low heat to form a blond roux (paste). When the roux smells fragrant, whisk in the stock until completely smooth.
Simmer the gravy for 20 to 30 minutes, or until it is thick and fragrant. Skim off the fat on the surface. Strain the gravy through a fine strainer and season as needed with salt and pepper. Transfer to a gravy boat, carve the turkey, and serve.


How to carve a turkey
Here, from Cooking.com, is the best video we've seen on how to carve a turkey. Famous California restaurateur Gordon Drysdale demonstrates not only the traditional way to carve turkey breast, but also the method we prefer--removing the entire breast in one piece and slicing the turkey into uniform slices.
Adapted from The Culinary Institute of America's The Professional Chef, 8th Edition cookbook (Wiley, 2006).
Photo credit: Butterball
More delicious food for parties