Teen girls' slumber party games and activities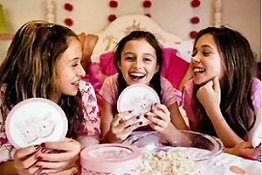 Teen birthday girls love having their friends come to a sleepover party. The best parties include fun games and activities, delicious snacks and appetizers, and great teen-friendly movies.
Here are some girls' sleepover party ideas to help you throw a memorable teenage birthday celebration for your daughter.
Conversation party games
Games, like the Slumber Party Box of Questions (pictured at right), are very popular among teen girls. This game features a box of 52 question cards that have topics teen girls are sure to love. They're also likely to enjoy the following fun conversation party games:
More ideas on creating kids' and teen parties