Teen Events Getting More Costly
By Jessica Koslow
Not every parent can afford to spend upwards of $200,000 on a child's "Sweet 16" celebration, as seen on MTV's highly rated show, "My Super Sweet 16." But all mothers and fathers want the same result: An extra special event for their teen. Coming-of-age celebrations only happen once. For many parents, spending a lot of money on those celebrations has become the order of the day.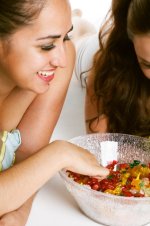 To inaugurate Hyatt Resorts' new HyaTTeen Suite 16 program, Andrea Bowen, who plays "Julie" on the hit TV series "Desperate Housewives" was hand picked to experience their exclusive and extravagant slumber party at the Hyatt Regency Huntington Beach, California. The hotel chain, recognizing the trend toward unique coming-of-age parties, launched its Suite 16 program in April 2006.
The package includes a one-night accommodation in a two-bedroom suite, limo transportation, dinner for eight catered by in-room dining, a special birthday dessert, bowls of popcorn and candy, and continental breakfast the next morning. Package costs vary by property and season, and start at $2,500.
The lucky Bowen certainly appreciated the fabulous factor of her special day. "Since I spend so much time on the set, having a weekend away with my friends was the perfect way to celebrate. From hanging out on the beach getting chocolate kiss manis and pedis to hanging ten during our surf lessons, my mini-vacation with my girlfriends was the ultimate way to spend my Sweet Sixteen." [To book the Suite 16 package, call 1-800-55-HYATT and refer to offer code 6TEEN.]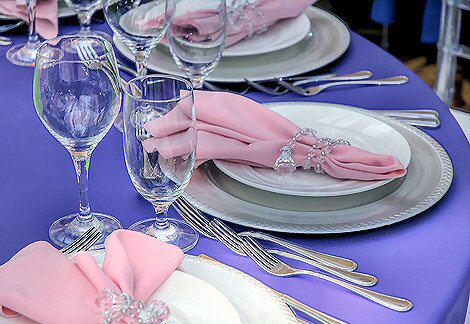 KIDS MORE SOPHISTICATED
Elizabeth Rodriguez-Kidder of Miami Events, Inc., says that in her area, some parents these days are spending in the neighborhood of $20,000 for parties to "make their kids happy."
And for these parents, if their teen beams, they are happy to kiss the money good-bye.
Teen events as competitions: Other party planners are seeing the same thing: kids and parents trying to one-up each other when planning coming-of-age parties. "I think people are still trying to out-do each other," says Leslee Tarlov of Tarlov Associates, Inc., a special events firm in Los Angeles. (Click on the image above, right, to see the lovely crystal napkin rings available at Amazon.com)