Tea parties for girls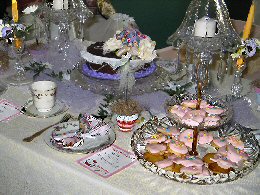 If your little girl loves the idea of having a tea party with her friends for her next birthday party, you can easily put together a stylish and fun party at home.
The photos of this girls' tea party were submitted by Shanee Duke, of Dickson, Tennessee.
Shanee planned the birthday party for her then-8-year-old daughter, Hope. The girls' tea party actually propelled Shanee, who owns The Goodie Basket Company, to expand from gift baskets to event planning.
Tea party decor
Here's how Shanee (pronounced Shuh-NEE) created her sensational tea party:
Frothy fabric and fresh-cut flowers: "We set up the girls' tea party area in our living room, using an outdoor deck table and chairs. We used yard sale china that I had bought, plus assorted crystal candlesticks, platters, and serving dishes. We cut fresh flowers from our garden. We used tulle to make a frothy table runner and bows for the candlesticks. On the fireplace mantle and hearth was my collection of china dolls.
Flower pots at each setting: My daughter wrote her guests' names on simple store-bought place cards. We also used the flower pens in pots that the girls decorated at the beginning of the party, and put the pots at their place settings.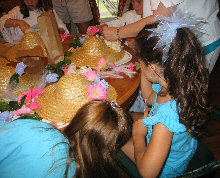 Chocolate cake centerpiece: A chocolate cake with chocolate icing served as the centerpiece. We decorated it with feminine ribbon, silk flowers, and strands of pearls and lace. We also had a tiered display of cupcakes decorated with silk flowers on a side table that was also decorated with china dolls, hats, and doilies.
Cookies with pink icing: Hope and I baked sugar cookies, iced them with pink icing, and added sprinkles. They were on the dining table, as well. (Pictured at right: The girls, with help from Hope's mom and grandmothers, decorate the hats they will wear to the birthday-party tea.)
Tea party activities
Shanee, her mother and her mother-in-law served as party helpers for Hope's 8th birthday party. "When the girls arrived, wearing play clothes, they went to the eating area of our kitchen.
Each guest was given a tiny flower pot pre-filled with floral foam, plus some moss, silk flowers, a paint brush and a selection of paints. The girls painted designs on the flower pots, and later glued flowers in place. These were the pots that were to hold the flower pens at each place setting.
Fans for the "little ladies:" "The next craft was a lady's fan. The girls used feathers, pearl strings, fabric, lace, and buttons. My mother and mother-in-law served as assistants and helped the girls by operating the glue guns.
Hats for each girl: "The highlight of the creative activities was hat decorating. I purchased woven hats from a craft supply store and offered flowers, lace, bows, feathers, and tulle. The girls had help with the gluing, but otherwise designed their hats to match the dress-up outfits they had brought to wear to 'tea.' After the crafts part of the the party was over, the girls dressed up in their finery and sat down at their beautiful table."
More ideas on creating kids' and teen parties