The latest trends in food: Party food ideas for trendy events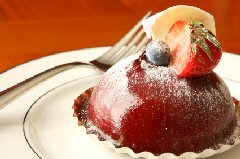 Just-a-taste Desserts
In keeping with the mini-meal theme that's increasingly popular way for entertaining, especially in this economy, desserts have been downsized as well. Some examples:
Cheesecake may be served as lollipops, a concept first patented by chef David Burke (and available for purchase at his website, gourmetpops.com).
Christopher Robbins, of Robbins Wolfe Eventeurs, in New York, takes the idea one step further by offering guests two- or three-bite ice cream cones.
Robbins also serves mini pudding shots. "We make lemon meringue pudding, sour cherry pudding, praline pudding, and apricot basmati rice pudding and serve them in modern shot glasses. Collectively they make a very colorful presentation."
With party-goers eager for new cuisine experiences--while doing minimal damage to their waistlines--look for the tiny taste treat trend to continue.


You might also enjoy:
Holiday Cocktails for 50
Wine-Tasting Party Basics
Bartenders' Guide to Good, Better, Best
The Latest Trends in Fancy Desserts
Caterer Reveals What Clients Should Know
More delicious food for parties