The latest trends in food: Party food ideas for trendy events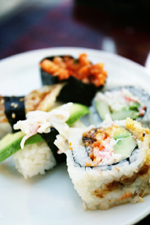 We all know that party food isn't just about what tastes good any more. Nowadays, the food served at private affairs, cocktail parties, and ballroom-sized events has to be visually appealing as well. "It's all about appearance," says Larry Gentile, executive chef at Country Roads Catering in Amityville, New York. "When people are trying to impress others, they don't want to be serving what's common and what other people have done," says Gentile. "You want to wow people."
One way caterers are rising to that occasion is by changing the way people eat. According to Christopher Robbins, vice president of Robbins Wolfe Eventeurs, a top caterer in Manhattan, "the most interesting spin on food right now are tasting plates. A lot of people are getting away from the sit down or buffet dinners." Instead, portions that are larger than an appetizer yet smaller than an entrée are brought to the guests while they socialize.

Exciting the senses
"It's the tapas mentality," says Gentile, referring to the small meals popular in Spain. "If you have tiny courses, your mouth, your palate, and your mind are continually being excited."
The food being served is also getting a new look. Here's a glimpse of what may be on the menu at the next social event you attend, or what you may wish to explore with caterers, if you're the host:
More delicious food for parties