Tasting party: chocolate and tea
CHOCOLATE TASTINGS
Chocolate is the first great culinary passion most of us experience, even if the chocolate is of the Hershey bar variety. But few of us are exposed to truly great chocolate confection.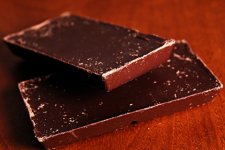 The best chocolate has nuances and depth, explains Belinda Ber, general manager, pastry chef, and chocolate sommelier of Chocolat Michel Cluizel (chocolatemichelcluizel.com) in Manhattan. She says "guided tastings" train samplers to identify the textures and flavors of each type of chocolate, "much like a nose does with perfumes."
Great for showers: Chocolate tastings can be piggybacked onto another event - a baby shower or book club meeting, for example. But you don't really need a reason to indulge other than for the sheer pleasure of it. Tastings are best held between meals when your guests' palates are sharp and ready for the many delicate distinctions of great chocolate.
Choose a variety to taste: Ber recommends having 7 to 10 varieties on hand for optimal tasting, enough for diversity but not enough to overwhelm your guests. At tastings in the Chocolat Michel Cluizel shop, she starts with low cocoa percentage milk chocolate, such as a Grand Lait, and ramps up to the highest cocoa percentage dark chocolate such as the Grand Noir or the Noir Infini. Other fine quality chocolate brands include Amedei (Italian), Valrhona (French), Lindt (Swiss) and Ghirardelli (U.S.).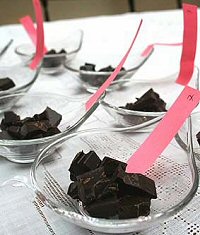 Perfect chocolate presentation: Unwrap and plate the chocolate before guests arrive. White china or porcelain highlights the different tones and hues of each variety. Have plenty of cool water on hand for cleansing the palate. Chocolat Michel Cluizel serves blue corn chips at its in-house chocolate tastings. The roughness of the corn helps scrub the palate clean.
Professional palates "look for chocolate that sates the senses. We look for consistent, rich color throughout the bar with a light sheen on the surface," Ber says. "An audible snapping sound when broken is a sign of a well-made dark chocolate," she adds. At the touch, the chocolate should melt into a soft satin or smooth velvet when rubbed between the fingers.
A good chocolate has a distinct scent. Some are spicy and sharp, others blend together and delicately touch each part of the palate. Depending on the ingredients and the method of processing, as astute palate might be able to detect a hint of citrus, passion fruit, moss, wood, earth, hints of currant, raisin, cherry, and even green olives. "The flavor will change as it lingers in the mouth, and each stage of the flavor [first taste, middle taste and aftertaste] should be judged as if they were movements in a symphony," she says.
Ber says chocolate parties introduce guests to an old favorite in a whole new way. "Chocolate tastings always help ensure a joyous party."
For more information: The Chocolate Source (chocolatesource.com)
You might also enjoy:
More delicious food for parties