Tasting party: chocolate and tea
Got a favorite palate pleaser? Why not build a party around it? At-home tasting parties are a hot new trend in home entertaining, and it's easy to see why. They're a snap to manage and offer hosts a no-cook twist on traditional party fare.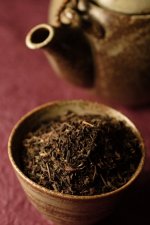 "People no longer have the time--and sometimes the cooking know-how or confidence--to throw dinner parties," says Dina Cheney, author of Tasting Club (DK Publishing) "yet they still want to have people over." Tasting parties, she contends, are the perfect activity for foodies.
While the idea of wine tasting parties has been around for years, tasting parties of all types are starting to occupy the thoughts of people planning at-home soirées. Tastings today center on everything from olives, oils and vinegars to honeys and apples.
A party for relaxation: Any time of day, any day of the week works for a tasting party, Cheney says. However, guests are more relaxed on weekends. Plan on allotting 90 minutes to three hours for the gathering.
Here are a pair of easy-to-pull-off ideas:
TEA TASTINGS
You might not know it by the proliferation of Starbucks, but tea is quite au courant. Tea sales topped $6 billion last year in the United States alone, and industry experts predict the figure to hit $10 billion by 2010.
With interest growing by leaps and bounds, tea-tasting parties give the sipping set a chance to expand beyond the standby brands found in every pantry.
How many tea types to taste: Visit a tea specialty shop, gourmet shop or go online to order a selection of five or six varieties. Adagio (adagio.com) a Clifton, New Jersey-based tea seller, offers more than a hundred types. The selection should mirror guests' tea knowledge. "Novices will likely enjoy comparing the various tea varieties: white, green, oolong, and black. A more seasoned group of tasters will likely enjoy contrasting teas of one variety, but hailing from different growing regions," says Adagio's Michael Cramer. Both loose tea leaves and tea bags are fine--as long as tea bags contain full leaves, versus tea "dust" that are often found in low-quality brands. Brew teas progressing from mild to strong flavors, for the best tasting experience.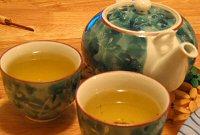 Pleasing the senses: Aroma and taste are key. Tea is similar to wine in its range of colors, bouquets and flavors. Taste-testing lets guests "appreciate not just the glaring differences between, say, black and green teas, but also the subtle gradations of taste found in teas grown even a few miles apart," Cramer says.
Tempered glass teapots and cups showcase teas' colors and textures and enhance the visual appeal of your tasting samples, but any tea set will do. Augment "courses" with mild-favored bread or unsalted crackers. It's best to stay clear of anything hot or spicy, which could dull the taste buds.
You can hold a tea tasting any time of day but if caffeine is a concern, schedule your party as an afternoon affair. "Gourmet tea is among the most affordable of luxuries," Cramer says. Like wines, it grows across a wide spectrum of locales and climates and offer a bewildering mosaic of enticing aromas and flavors. But, of course, unlike wine, you can drink as much as you want and never need to worry about having to name a designated driver.
For more information: The Complete Idiot's Guide to Coffee and Tea by Travis Arndorfer and Kristine Hansen (Alpha).
More delicious food for parties