Take beautiful First Birthday baby photos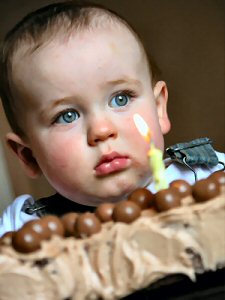 It doesn't get better than Baby's First Birthday party!
Friends and family members gather. Baby is fascinated by lots of activity, a big birthday cake, and a single candle. This is the stuff of lifelong memories.
After you've checked out our great First Birthday party planning ideas, get your camera ready and take advantage of these expert tips, adapted from the Digital Photography Tutorial, on how to capture the magic of Baby's First Birthday party.
Get lots of uses from your photos: Baby photos can serve multiple purposes. Pictures taken before the party can be used to create party invitations. Photos can be the basis of thoughtful gifts for grandparents. And don't forget about using photos of your baby for your family's holiday photo greeting cards.
Here are lots of wonderful First Birthday party baby photo tips:
More ideas on creating kids' and teen parties