Sweet Sixteen birthday parties for boys?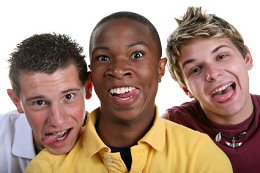 Getting the guys together
When we were planning my son's 16th birthday party, we talked about getting a couple of his friends together for dinner at ESPN Zone in Manhattan, or at Dave & Busters in Westbury.
We finally settled on celebrating at a local Chinese restaurant because his birthday coincided with the Chinese New Year, and dragons and dancers and endless courses of Chinese food were guaranteed. The boys had a good time, the night was memorable, and I didn't have to take out a loan to pay for it.
"My birthday was perfect because it was just a couple of my friends going out to eat and laughing at the dragon dances," says Alex. "So it was special, but not elaborate."
"I don't feel gypped in not having a Sweet Sixteen party," agrees his friend, Sam Bobley, of Glen Head. "It's not that boys can't have one. It just doesn't appeal to me. I'd much rather get a really great present." Besides, he adds, "After a while, the Sweet Sixteen birthday parties all seem the same, and "they can get boring."
More formal parties for boys?
When you think about it, celebrating Sweet Sixteens is similar to celebrating before a wedding. The bride-to-be gets an elaborate bridal shower with lots of food, festivities, and gifts. The groom-to-be goes to a club and hangs with the boys.
Every once in a while, Sweet Sixteen party planning companies report, they do get calls about Sweet Sixteen parties for boys.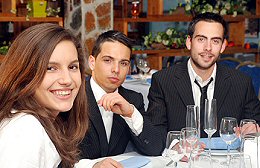 The key challenge, of course, is to come up with cool concepts for Sweet Sixteen parties for boys. Among the possibilities that Sweet Sixteen planners have devised are nightclub and sports themes. And of course, it's hard to go wrong with a night of video games.
Whatever the idea, experts agree, it has to be something cool for guys. Otherwise, they won't want any part of it.
Alex agrees that a Sweet Sixteen birthday party for boys would have to be very cool to be appealing. However, he notes, it probably will be a while before guys think such celebrations are acceptable. "If it does catch on, there's no reason a guy wouldn't want to have one," he concedes, "as long as girls are invited."
You might also enjoy:

Great teen birthday ideas
Survive planning a Sweet 16
Teen events costlier
Girl's 13th birthday party ideas
20 top party foods for teens
More ideas on creating kids' and teen parties