Sweet Sixteen birthday parties for boys?
By Laurie Bain Wilson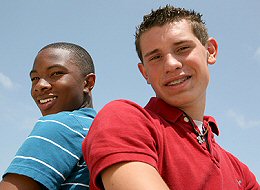 The invitations usually came embossed in gold. They included RSVP cards, directions to swank catering halls, and suggestions for black-tie attire. As each one arrived, I thanked my lucky stars that I'd given birth to a boy.
The fancy invites were addressed to my son, Alex, inviting him to Sweet Sixteen birthday parties or, rather—Sweet Sixteen birthday galas.
The first Sweet Sixteen party he went to was held at the upscale, water-view San Souci in Sea Cliff, New York. He had a great time at that party. He danced to the music. And he raved about the multi-tier fountains on the dessert table that poured cascades of melted chocolate.
Yet, when it came time to celebrate his own milestone 16th birthday, Alex, like most teenage boys, had other ideas about marking the occasion. "Sweet Sixteen birthday parties are fun," said Alex. "But any teenage boy will tell you that Sweet Sixteen parties are strictly girl things."
Surprises and celebrities
And often, very expensive things. Some of the more creative—and costly—Sweet Sixteen birthday parties that have had people on the North Shore of Long Island talking have included one party in which the girl's parents bussed dozens of kids into New York City for dinner and a Broadway show; all of it was planned as a surprise for the birthday girl.
At other Sweet Sixteens, famous celebrities or athletes have shown up for a meet-and-greets.
More ideas on creating kids' and teen parties