Susan's 5-Minute Party Appetizers
Like most of us, Susan Boughner, an interior designer from Old Brookville, New York, loves to collect recipes. Over the years, she's gathered hundreds from family members and friends.
What's interesting, though, is that Susan has self-imposed guidelines about how much time she'll spend preparing dishes based on her collected recipes.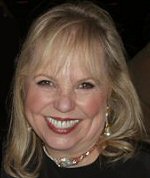 If, for example, she's baking a banana pecan tart for a holiday dinner, or for the family's annual Super Bowl party, time is no object. Susan happily spends hours preparing pastry for the crust, pastry cream, the pecan filling, and a warm caramel sauce to spoon over the caramelized banana topping. "I like desserts," she says, laughing.
For appetizers, however, the rules are different. Recipes still must be tried-and-true winners. And it's OK if party appetizers need to be baked. However, Susan's preferred preparation time: under five minutes.
Here are some of Susan's quick-to-prepare party appetizer favorites,* to add to your own collection: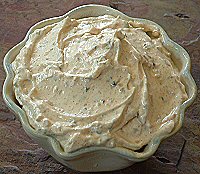 Speedy Clam Dip
Makes about 2 cups
Blend together, and chill:
1 6-oz. can minced clams
1 cup sour cream
4 oz. cream cheese
1 tsp. chopped fresh or dried chives
1 tsp. Worcestershire sauce
salt and pepper to taste
Easy Spinach Dip
Makes about 2 1/2 cups
Blend together, and chill:
1 10-oz. package of frozen chopped spinach, thawed and drained
1 bunch scallions, white part only, finely minced
1 cup mayonnaise
1 tsp. salt
1/2 tsp. pepper
About 1 Tbs. chopped fresh parsley
Fast Bacon-Wrapped Dates
Makes about 60 pieces
1 lb. package bacon
1 container pitted dates, about 30 pieces

1. Preheat oven to 350 degrees.
2. Cut each strip of bacon into three slices; cut each date in half, vertically.
3. Wrap one bacon slice around each date half.
4. Place wrapped dates on cookie sheet; bake for 25 minutes or until bacon is crisp.
Photo credit:Tumbleweed BBQ
Quick Shrimp Dip
Makes about 1 1/2 cups
Blend together, and chill:
6 oz. chopped cooked shrimp [or you can substitute a can of crabmeat]
3 oz. cream cheese
1/4 cup mayonnaise
2 Tbs. minced onion
1 Tbs. ketchup
Simple Crab Spread
Makes about 2 cups
6-oz. can crabmeat
6 oz. whipped cream cheese
4-oz. package of herb-garlic cream cheese spread
3 Tbs. sliced or slivered almonds

1. Preheat oven to 350 degrees.
2. Blend all ingredients; spread in small loaf pan.
3. Sprinkle with almonds; bake for 35 minutes or until hot.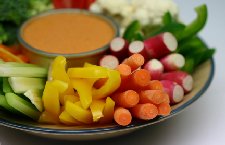 *Making snacks healthier
These dips and spreads can, of course, be made with no- or reduced-fat sour cream, mayonnaise, or cream cheese. Just adjust seasonings to taste.
Another way to cut down on fat and calories per appetizer serving is to add ingredients such as drained, chopped water chestnuts (to the spinach dip).
And regardless of any recipe changes, substitute baby carrots, red and green pepper strips, snow peas, fresh string beans, and broccoli or cauliflower florets for high-fat chips and crackers to make your family's snacking healthier.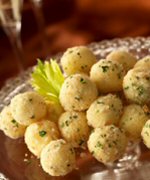 You might also enjoy:
More delicious food for parties