Survival guide: Tips for the mother of bride
Most of us probably can recall dreaming about our weddings from the time we were little girls. Surprisingly, once women have daughters of their own, the fairy-tale wedding fantasy often recurs.
If you're the mom of a daughter whose "I do's" now have a date attached to them, the fun and challenge of planning a wedding are underway or about to begin. Now's the time to turn a lifelong fantasy into a once-in-a-lifetime event. The key question, however, is: "Whose fantasy is it?"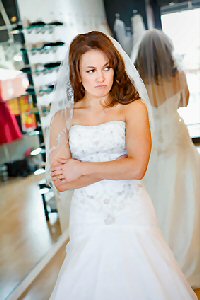 Problems can crop up and quickly escalate if you and your daughter have conflicting expectations about her wedding.
The fact is, for some lucky moms and daughters, planning the daughter's fantasy wedding can be a dream come true for both. It also can become a battleground.
"The Bridezilla thing is true"
Francine DeCicco is the owner of Diamond Event Planning, Inc., (awedwitharedhead.com) in Flushing, NY. Francine has worked in the wedding and events industry for more than 15 years, and has counseled many brides and their moms. She's also been the mother of the bride, herself.
Here's part of Francine's description of what it was like to help her daughter, Jodi, plan her 2004 wedding:
"Forgetting that I'm a wedding planner and have been for well over a decade, and have participated in over 800 weddings, she constantly challenged my input and experience. "The mood swings, the crying and the repetitious questions and beyond-numerous phone calls (sometimes well into the middle of the night)..."
Francine laughs about it now. At the time, though, she didn't think it was quite as funny.
Emotional land mines
For any mother of the bride, she says, the most important thing to keep in mind is that there will be obstacles to overcome. "What happens on MTV's Bridezillas is true. Moms should know that they have to be prepared to deal with a demanding bride," she says.
The key to survival: "Allow your daughter to let out her emotions." Then you can more calmly deal with the issues at hand.
Here, according to the wedding planner and former mother-of-the bride, are the most common areas of conflict, along with tips for steering clear of what she calls "the bridal battlefield."
The ceremony:—Interestingly, decisions about the ceremony are least likely to bring about conflict, says Francine. Brides often make decisions that reflect their families' heritage, religious beliefs, and traditions. Francine says that brides typically value their mothers' opinions about the ceremony and are willing to agree to Mom's suggestions.
Venue and décor:—Conflict can escalate quickly when it comes to the "where" and "what will it look like." Costs for the type of event the modern bride would like may greatly exceed those that Mom remembers when planning her own wedding. "We come from different times. Budgets are different," says Francine.
For the mother of the bride who isn't paying for the wedding, Francine advises, "the best thing you can do is understand these differences and be supportive of your daughter's wishes."
If Mom and/or Dad are paying for the wedding, costs obviously are a much bigger issue. "If there are budgetary constraints, it's best to discuss them before the actual planning begins," she emphasizes.
More ideas for the parties surrounding weddings