For your party table: flowers for easy fall decorations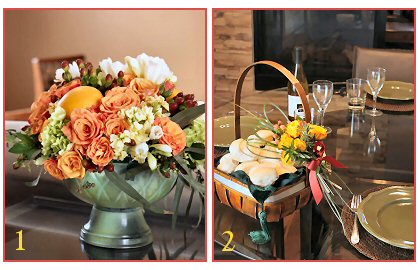 One of the nicest things about Fall is looking forward to Halloween, Thanksgiving, and other Fall celebrations with friends and family.
Many of the elements and colors of October, such as pumpkins, wheat, corn stalks, and flowers in beautiful shades of orange, gold, and red, can be used to create beautiful centerpieces and floral decorations throughout the season.
In our blog, we've already shared beautiful colors and elements of the season. This time we're excited about two fabulous arrangements, from the Flower Promotion Organization, both of which are far easier to create than they look. Either one or both will help you create a beautiful festive atmosphere for your at-home entertaining:
1) Combine pretty fall elements into a single arrangement
Materials and flowers:
One 8-inch ceramic bowl
3 miniature pumpkins, gourds, oranges, or persimmons
8 stems white freesia (or any white flower)
5 stems orange miniature spray roses (or other orange flower)
5 stems open orange hybrid ti- roses (or other orange flower)
4 stems yellow stock (or other yellow flower)
5 stems hypericum berries
1 large stem green hydrangea
3 wood pics (available from the florist or craft store, or use wood shish kabob skewers)
2 to 3 bricks of floral foam
Floral preservative
Knife
Floral clippers
Directions:
Soak the floral foam in water that has been treated with floral preservative for at least 30 minutes.
Cut the foam to fit the interior of the container. Then with the knife, shape the foam so that it is domed, the center higher than the sides.
Insert one wood pic (or cut shish kabob skewers into 3-inch lengths) and insert them into each miniature pumpkin/orange or persimmon. Then insert them sporadically into the floral foam.
Think of the arrangement in sections: each section is built around a pumpkin, orange, or persimmon. Begin inserting flowers, cut to 4- or 5-inch lengths, deeply around each pumpkin, orange, or persimmon. Very quickly the centerpiece will be filled with beautiful cut flowers.
2) Beautiful bread basket floral decoration
Materials and flowers:
3 stems orange spray roses (or other orange flower)
1 stem orange hypericum (or other orange flower)
2 stems rosemary
10 stems beargrass
1 bread basket with handle
8-inches twist-tie
1 yard decorative fall ribbon
Floral clippers & scissors
Directions
Cut the flowers and foliage to about 4 inches in length. Remove the greens half-way down the ends of their stems.
Holding each flower just under its bloom, create a rounded bouquet.
Add the rosemary sprig, and make loops of beargrass behind the flowers.
Use a rubberband to hold all of the the stems in place, trimming the ends so they are close to the the same length.
Use a twist-tie to attach the bouquet to the handle of the basket,
Cover the twist-tie with decorative ribbon and make a bow.
Fill the basket with something unexpected: apples, miniature pumpkins, or colorful fresh vegetables to reflect the Fall harvest.
You might also enjoy:
More pretty ideas for gorgeous parties