Successful Fundraiser: San Diego Chapter of the Arthritis Foundation
By Laurie Bain Wilson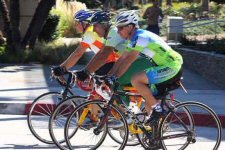 When it came time to plan this year's fundraiser, event organizers at the San Diego Chapter of the Arthritis Foundation realized that creativity wasn't going to be a luxury—it would be a necessity.
The challenge, of course, was to find ways to do a lot more with a lot less. Organizers knew that because of the economy, it was going to be harder to raise money than in years past.
The organization's creative solution: "A Summer's Night in Coronado," which is to be held on August 12, 2009, from 7 to 10 p.m. It's the organization's first wine and beer tasting fundraising event.
"Our wine benefit will augment the money raised at our big annual event," says Andrea Muir, Director of Development for the San Diego Chapter of the Arthritis Foundation.
Muir is referring to an 8-day cycling tour from San Francisco to Santa Monica that's sponsored by four California chapters of the Arthritis Foundation. It's scheduled for October 3, 2009. "The event typically raises $150,000. Each participant is required to raise at least $3,000," she explains.
"We're hoping that our Coronado event raises an additional $6,000," she says, adding that to encourage ticket sales, the San Diego chapter is charging only $30 per person.
LOCAL BUSINESSES COME THROUGH
As with most fundraisers, merchants in the area have pitched in. The wine, beer, and food have all been donated, Muir notes.
"If you just ask, you wouldn't believe how generous people can be," she says. Just as important, she quickly adds, is that potential donors respond to a clear signal that you're trying to keep costs down.
"People want to give, and come to your event if you can show that you are keeping costs down so that most of the money is going back to the organization." she says. It's also important to recognize that times are difficult for many people.
"You don't want to appear ostentatious," she continues. "You want to be respectful and sensitive to the hard economic times people are dealing with."
That being said, it's much more difficult for any organization to raise funds in tough times. Whereas people might have given $100 last year, they may only be able to give $50, this year, she points out. "You need to work harder to get the money," Muir says.
CLICK HERE to see Muir's clever tips for doing more with less and still creating a stylish fundraiser.
More ways to help wonderful causes