Stay-Sane Birthday Party Advice from Moms
By Karin Greenberg
As children's birthday parties have evolved from pin-the-tail-on-the-donkey to rock climbing on faux mountains, moms' stress levels have soared proportionately. Most parents know the basics, like limiting the party to 1 1/2 hours. But here, from the mouths of moms--all of whom plan at least two or three birthday parties every year--are some less obvious tips that can help you remain less frazzled at birthday time: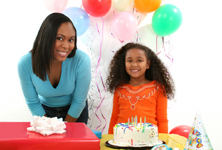 TIPS FOR ALL AGES
Try not to schedule the party for a time when you've got other things going on. It may seem like a child's party is nothing major, but planning it too close to other big events can add tremendously to your stress level. If possible, steer clear of dates that are within a few days of a big work presentation or business conference, another special occasion, or even a family vacation.
-Laurie Mann, Dix Hills, NY
Charge batteries; empty memory cards; and change tapes before the party. Having a video recorder or digital camera run out of batteries or memory during a party often leads to heated "blaming" fights. Charge everything a day in advance and make sure you have plenty of tape left so that your video doesn't end right before everyone sings, "Happy Birthday."
-Debbie Fishbein, West Hills, NY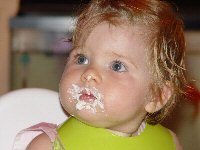 Go to an all-inclusive place. Don't create extra tension by making work for yourself--searching all over for the perfect party favors, cutest paper goods, and a pizza place that delivers. Book your party at a place that takes care of everything. That way, you just have to show up, enjoy watching the kids have fun, and pay.
-Jennifer Paley, Chappaqua, NY
FOR KIDS AGES 1-4
Plan the party during the week, if possible. Younger children aren't often as scheduled as are older kids; they can attend parties as long as parents or caregivers can bring them. Have the party on a weekday morning or afternoon, while older kids are in school. That way, you can limit the number of attendees and simplify everything. Older siblings can participate in a fun, old-fashioned home celebration, later.
-Jillian Schatzberg, New York City
Be sure entertainment is age-appropriate. Having a costumed singer perform for a room full of one-year-olds or planning an arts & crafts party for two-year-olds may seem like good ideas. In reality, expecting little kids to concentrate on any activity for more than a couple of minutes at a time is a recipe for disaster.
-Lauren Solomon, Millwood, NY
Buy a cupcake cake. To avoid messy, cake-cutting chaos, consider serving cupcakes, or ask your bakery to create a "cake" using break-away cupcakes. When it's time for dessert, there are no knives to worry about: the "cake" quickly and safely separates into individual portions.
-Mandi Wiederkehr, West Harrison, NY
Have the pizza cut into 16 pieces instead of 8. Though most party places do this for very young kids, many don't automatically do the same for older ones, who are often also fine with a half slice. Be sure to remind the party place (or pizzeria, if you're having the party at home) to cut the pizza this way for children ages 5 and younger. You'll have less waste, less mess, and still have plenty of pizza for everyone.
-Witti Naval, Melville, NY
[Editor's Note: We think this advice is great for almost any food you serve at a birthday party for kids, even if the kids are several years older. Cut up everything, and encourage the kids to come back for as much as they want. Good tip for serving: bagels, pre-made sandwiches and wraps, muffins, fruit, even cupcakes (who wants the kids to lick off the frosting and waste a whole cupcake?]
FOR KIDS AGES 5 AND UP
It's OK to have an all-girls or all-boys party. If your daughter wants to have a princess hair-braiding party, let her invite only girls. If your son is set on having a birthday basketball tournament, permit him to invite only boys. The easiest way to avoid having kids feel left out is to invite all the children of that gender in your child's class.
-Beth Silverberg, West Orange, N.J.
Set up teams in advance. For parties that involve bowling, soccer, or any team sport, divide the kids into teams before the party. Doing so will help avoid needless hassles during the party and will prevent children's feelings from being hurt if they are not chosen right away.
-Kelli Feinstein, Woodbury, NY
You might also enjoy:
What Did Your Kids Like Most?
What was the theme of your child's last birthday party? What did the kids like most about the party? Go to our Community forums and share your experiences with other moms.
More ideas on creating kids' and teen parties