Spring colors for party fashion accessories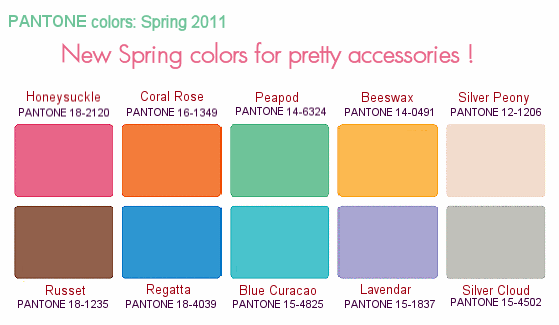 Some Pretty New Accessories
Above, from the world's leading color authority, Pantone, are the top colors for Spring. They're sure to brighten closets and cosmetic bags everywhere.
If you're planning or attending any parties during the Spring months, it's almost time to look for party dresses, or at least the scarves, necklaces, bracelets, handbags and shoes that can update the dresses you already have.
Here are some of our favorite color-perfect and affordable accessories, in the season's newest shades.
1. Juicy Couture mini, $148.
2. Ralph Lauren necklace, $78.
3. Floral patchwork challis scarf, $38.
4. Martino Valera Ursula pump, $149.95
5. Ralph Lauren woven nylon belt , $19.90.
6. Sprout Watches Mother of Pearl, $65.
7. Alexis Bittar Lucite square bangle, $49.90
8. Kate Spade earrings, $55.
More great ways to look fabulous