Spring and summer floral trend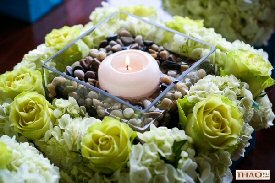 Here's a sophisticated floral trend that is perfect for any spring or summer gathering. The latest American Floral Trends ForecastTM includes a style called "Habitat." It's emphasis: a collection of nature-inspired colors and elements.
The Habitat palette consists of colors ranging from white, through green tones. It also includes shades of ocean blue. The colors are paired with natural elements, such as stones and branches, to create a calming, serene atmosphere.
Here, from the California Cut Flower Commission are some of the flowers and elements that you can use or combine to create the fabulous warm-weather "Habitat" floral design look—at a party venue or in your own home:
Flowers

Other elements to use

Rose
'Monte Cassino' Aster
Calla
Bupleurum
Hydrangea
Gladiola
Lisianthuse
Tulip
Bells-of-Ireland
Hyacinth
Delphinium
Larkspur
Muscari Waxflower
Hanging Amaranthu
Berzelia Seeded Eucalyptus
Botanical Prints
Birds, Nests And Eggs
Specimen Plants Mosses And Lichens
Edwardian Cases And Cloches
Modern British Floral Patterns
Environmental Awareness
Image source: Thao Vu photography. [Editor's note: The Web site of Thao Vu, based in Orange County, CA, displays some of the most beautiful and inspired photos we have ever seen. Do yourself a favor and set aside a few minutes to sit back, relax, and watch a slide show of their wedding photos. For a wedding, or any event you're planning, these are the types of images you'll want captured, to enjoy forever.]
You might also enjoy:
Elegant, relaxing floral design trend
Simple, beautiful flower arrangements
More pretty ideas for gorgeous parties