Spiced almonds: 3 easy, tasty, and healthy cocktail snacks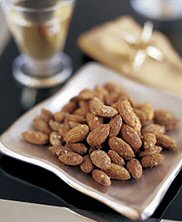 Almonds are great for party snacks. They're delicious and deliciously healthy. Almonds are great sources of good-for-you monounsaturated fat, fiber, vitamin E, magnesium, and phosphorous. A handful of almonds also serves up protein (6g), potassium (200 mg), calcium (75mg) and iron (1.0mg).
GREAT TIP: ENJOY ALMONDS SLOWLY
Now, there's even more reason to enjoy almonds at a cocktail party-especially if you're watching your weight. Chewing almonds slowly and thoroughly—up to 40 chews—will release more good fats and vitamin E, while also giving you the feeling of fullness—a feeling that could prevent you from overdoing it at the party, or at dinner.
Here are three great recipes for different-flavored spiced almonds. Include them on any fruit and cheese platter. Or simply serve small bowls of almonds and perhaps, olives, for quick, tasty hors d'oeuvres.
FIRECRACKER ALMONDS
2 tsp. chili powder
1 tsp. curry powder
1 medium clove garlic, finely minced
1 Tbs. olive or almond oil
2 cups whole natural almonds, toasted*
1/2 tsp. hot pepper sauce, or to taste
1 tsp. ground red pepper (cayenne), or to taste
Combine chili powder, curry powder, garlic powder and oil in a medium-sized skillet over medium heat.
Heat until hot and bubbly.
Stir in almonds, tossing until almonds are evenly coated and heated through, 3-4 minutes.
Remove from heat and cool slightly. Stir in pepper sauce and red pepper (cayenne).
Allow to cool fully before serving.
HONEY ROASTED ALMONDS
2 Tbs. soy sauce
2 Tbs. honey
½ tsp. grated orange peel
2 medium cloves garlic, minced
½ tsp. ground ginger
2 cups whole natural almonds, toasted*
2 tsp. almond oil
In small saucepan blend soy sauce with honey.
Stir in orange peel, garlic and ginger. Bring mixture to a boil. Stir in almonds; toss to coat evenly.
Boil, stirring constantly, until liquid is absorbed, about 5 minutes.
Toss with almond oil. Place almonds on cookie sheet in a single layer, separating almonds.
Bake at 250 degrees F., 15 minutes.
Pour almonds onto oiled waxed paper.
Toss and separate every 5 minutes until cool. Store in tightly closed plastic bag.
PARMESAN-HERB ALMONDS
¾ cup grated Parmesan cheese
1 Tbs. Italian herb seasoning
3 medium to large cloves garlic, depending on taste, finely minced
½ tsp. paprika
2 egg whites
2 cups whole natural almonds, untoasted
Preheat oven to 325 degrees F.
In a small bowl, mix all ingredients except egg whites and almonds; set aside.
In large bowl, whisk egg whites until they begin to form soft peaks and are opaque.
Add almonds; toss to coat.
Add cheese mixture; toss gently to coat evenly.
Oil, or coat a baking sheet with vegetable cooking spray.
Arrange almonds on baking sheet in single layer. Bake in center of oven 15 minutes.
Gently toss almonds and arrange again in single layer. Continue to bake 15 minutes longer; toss gently.
Turn off oven. Leave almonds in oven with door ajar 20 minutes.
Remove from oven; cool completely. Store in airtight container up to one week.
*How to toast almonds (two easy ways!):
Skillet
• Place almonds in a heavy, ungreased skillet, over medium heat.
• Stir often until almonds are golden brown.
Oven
• Preheat oven to 350 degrees F.
• Spread nuts in one layer on an ungreased shallow baking pan.
• Bake for 10 to 15 minutes, stirring occasionally, until almonds are golden.
All recipes adapted from and photo by The Almond Board of California

You might also enjoy:
Susan's 5-minute party appetizers
Delicious, easy party food on skewers
More delicious food for parties