South Beach Style: Dress-up with Attitude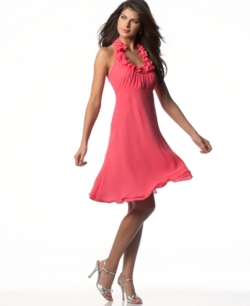 Dress up for a night on the town
Then there's the matter of what to wear for a night out on the town or for a special occasion. Valestra relays that wrap dresses and halter dresses are hot now.The halter dress, pictured at the left, by Donna Ricco is a stylish choice.
Another chic style for dress-up cocktail parties is the strapless dress, especially in dark colors, such as black. Shamika Super adds that materials like silk and chiffon are popular, and notes that some summer-style dresses are now loose fitting and blousy, either sleeveless or with puffy or cinch sleeves. In her opinion, when it comes to dresses, tight, form-fitting dresses are currently taking a back seat.
If the evening calls for casual, like celebrating the end of the workweek at a local restaurant, bar or lounge, denim is still the go-to get-up. Whether it's a pair of jeans, a jean skirt or a pair of jean shorts, each item is easy to throw on and looks cute with a silky, sexy camisole, a jeweled tank top, or other trendy top and high-heeled sandals.
More great ways to look fabulous