Sophisticated teen party décor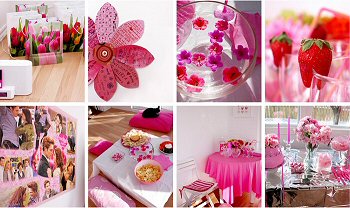 Teens love to feel sophisticated. But fulfilling their desire to feel grown-up at a teen birthday party doesn't mean that you have to overspend.
You can create a fun and "girly" atmosphere with just a few clever touches, as seen in these creative teen party pictures, posted by Jackie Rueda on flickr.com.
Here are some decorating ideas that will make teen girls feel special at any birthday party:
Use color as your theme: Rueda used pink and red. She set the tables with small flower arrangements. You can buy inexpensive pink and red carnations at your local supermarket and set your party tables with vases you already own. The party foods were also served on pink and red serve ware.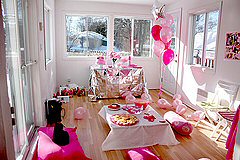 Add trendy touches: Rueda created a lounge feel by setting up snacks on a coffee table which she placed in the center of the room, to create a conversation area. She also put out floor pillows so the girls could lounge comfortably. The dessert table, at the far end of the room, was covered in a shimmery silver table cloth, adding to the sophisticated look.
Teen-friendly food and beverages: Keeping with the theme, Rueda served fruit punch during the party. She used wine glasses and garnished each drink with a strawberry. Pink or red-colored smoothies would work perfectly too. Buy plastic wine glasses and let the girls decorate them, for a fun activity that doubles as a take-home party favor they'll love.
For snacks, keep it simple. Serve a couple of different dips with potato and tortilla chips. Seven-layer dip is a always a hit. If you are serving lunch or dinner, you can't go wrong with pick-up party food such as mini burgers, sandwich wraps, or food on skewers. Serve a cake, or perhaps cupcakes, with pink icing. Strawberry desserts are also a great choice.
Image source: Jackie Rueda posted on Flickr.
You might also enjoy:

Low-cost teen party extras
Great teen birthday ideas
20 top party foods for teens
Girl's 13th birthday party ideas
Teen events costlier