Simple fun: Create a sweet May Day basket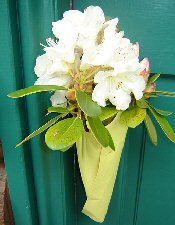 Here's a lovely and fun way to celebrate May Day and officially welcome Spring!
Create a small token of flowers to give a special someone on May 1st. You can use almost anything--a small gift bag, a construction paper cone, or a store-bought basket.
Simply fill the bag, cone, or basket with a few fresh or artificial flowers (or one large flower, such as the white hydrangea shown here) plus some candy treats, if you wish.
Then hang it on the front door knob of a friend or neighbor's house (Or put the basket on the doorknob of your kids' rooms, for some May Day family fun.)
According to tradition, the May Day basket should be placed on the door secretly, without anyone seeing who left it! If you get caught, you get kissed!
That's a big return for very little effort. Celebrate May Day and make at least two people happy!
Image source: purplewon2000
More how-to's for great get-togethers