Fall flowers: decorating to set a festive table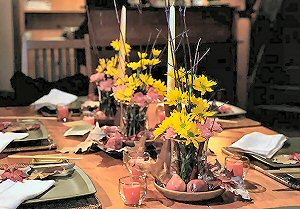 If you will be hosting Thanksgiving dinner, you can easily set a festive fall table using beautiful, yet reasonably priced flowers. Here's great advice adapted from the Flower Promotion Organization. The same technique can be used in different seasons, with different flower combinations–we'll keep you posted.
To create this tablescape you will need:
3 clear glass hurricane vases
18 pompom mums; remove lateral blooms (blooms off the main stem), leaving two or three blooms at the center of the stem and cut about 12 inches long. (Tip: Stems should be cut with ends flat so they rest evenly in container)
9 orange carnations; strip foliage and cut each stem about 8 inches long.
15 branches–cut 9 branches 6 inches long each, and cut the remaining 6 branches about 12 inches long each (Use any common branches, such as beech, birch, pussy willow, and forsythia.)
Extra enhancements
3 dinner plates or chargers
Fresh evergreen branches
Pine cones and autumn foliage
How-to directions
Fill hurricanes with water and flower food.
In each hurricane glass, lean three 6-inch branches vertically to criss-cross inside of glass, forming a natural flower holder at the bottom.
Juxtapose 3 carnations at an angle between branches in each hurricane.
Insert two 12-inch branches in the center of each glass.
In each glass, add six 12-inch pompom stems along side the center branch at the center
Add remaining lateral blooms around the center insert.
Note: For an elegant added touch, slide a favorite dinner plate or decorative charger beneath each hurricane. Enhance plates with fresh evergreens, pine cones and foliage.
You might also enjoy:
More pretty ideas for gorgeous parties