Serve your burger best: Great burger bar ideas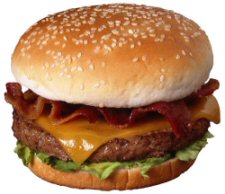 Having a summer BBQ? Serve your burger best and delight your guests! Create a sensational burger bar as the basis of your delicious party food buffet.
To boost the nutritional value of everyone's favorite "once-in-a-while" indulgence, start off with lean beef. Or offer guests a choice of even lower-fat chicken or turkey burgers.
Then, up the flavor of any burger by offering a variety of toppings that can transform grilled patties to delicious (if not always waist-friendly) party fare.
Think of ketchup, mustard, and relish as just starters! Here are easy ways to create a fabulous burger bar.
Make-aheads for a great burger bar

It's easy to prepare many of the following toppings in advance. Grill some onions or sauté mushrooms. Dice up some ripe tomatoes and hot peppers.
Place the selected toppings in pretty bowls on the buffet table. Then just let your party guests create their own end-of-summer burger treats.
Here are some great ways to create specialized BBQ burgers-or just to add flavor choices to your burger buffet. Your guests are sure to love all of them!
Down Home Burgers
Cajun: Seasoned ground beef grilled with Cajun spices and spiced up with Jalapeño cheese, chili mayonnaise and pico de gallo sauce.
Cowboy: Beef burger covered with grilled mushrooms, grilled onion, bacon and Monterey Jack cheese.
Mushroom: Hamburger covered with mushrooms sautéed in Worcestershire sauce.
Smokey: Beef burger topped with roasted balsamic onions, smoked bacon and smoked cheese.
Tough Texan: Ground beef seasoned with hot sauce and dried red peppers, smothered with melted cheese and barbecue sauce.
South-of-the-Border Burgers
Chili: Hearty beef burger covered with your favorite homemade chili and shredded cheese.
Mexican: Beef burger topped with any combination of bean dip, guacamole, sour cream, chopped onions, and crisp bacon.
Spicy: Beef burger topped with diced jalapeño peppers and onions and melted Monterey Jack cheese.
Taco: Grilled burgers with shredded lettuce, a tomato slice, sour cream, salsa, and diced jalapeños.
Euro-Style Burgers
Alpine: Lean ground beef patty smothered in sautéed mushrooms and Swiss cheese.
Bavarian: Burger topped with Cheddar cheese, mustard, and sauerkraut served on potato bread or bun.
Bistro: Ground beef covered with caramelized onions, Brie cheese and crisp bacon.
Euro: Grilled beef patty topped with sliced ham, Swiss cheese and Dijon mustard
Greek: Burger topped with Feta cheese, black olives, and onions.
Italian: Grilled beef patty covered with roasted red bell peppers or sun-dried tomatoes, and Mozzarella cheese, served on focaccia bread.
Mediterranean: Beef patty seasoned with Mediterranean spices (hot paprika, garlic, cumin, oregano leaves, mint leaves), grilled and served with Greek yogurt sauce in pita bread.
Parisian: Topped with crumbled Bleu cheese, marinated red onions and tomatoes served on a croissant.
Cheeseburger Fun!
For more clever cheeseburger combination ideas and a few good laughs, be sure to check out www.cheeseandburger.com.
The Wisconsin Milk Marketing Board is behind this funny, Rolodex-style flip-card presentation. It's complete with hilarious narration and brief introductions to each featured cheese by a drawling John Wayne sound-alike. Some great ideas, and lots of smiles, too!
Source: Burger Bar suggestions adapted from cheese-burger.net
More delicious food for parties