Sicilian eggplant bruschetta (caponata)
Serves 10 people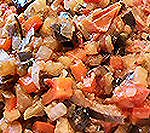 Ingredients
1/2 cup extra virgin olive oil
2 medium onion, chopped
4 stalks of celery, chopped
1 red pepper, chopped
2 medium eggplant, peeled and cut in strips
4 Tbs. tomato paste
2 large tomatoes, seeded and chopped
4 Tbs. honey
4 Tbs. red wine vinegar
2 Tbs. capers, drained
2 cup fresh ricotta cheese, or 1 lb. fresh or smoked mozzarella cheese, diced
Instructions
Heat oil over medium high heat in a large sauté pan.
Add onion, celery, red pepper, and eggplant and sauté for 7-9 minutes until softened.
Add tomato paste, tomatoes, honey, and vinegar. Continue to simmer until a thick sauce is formed. Add capers; set aside.
Place ricotta or a small cube of mozzarella in a bowl next to the eggplant bruschetta.
Allow guests to top their bruschetta with a small dollop of cheese.
**Note: Eggplant caponata may be made up to 3 days before serving.
Source: Adapted from Oldways
More delicious food for parties