Peppermint whoopie pies
Serves 30 whoopie pies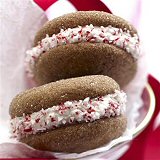 Ingredients
3 cups flour
2 tsp. ginger, ground
1 tsp. cinnamon, ground
1 tsp. baking soda
1/4 tsp. nutmeg, ground
1/4 tsp. salt
3/4 cup (1 1/2 sticks) butter, softened
3/4 cup firmly packed brown sugar
1/2 cup molasses
1 egg
1/4 cup granulated sugar
Lemon Creme:
1 jar (7 oz.) marshmallow cream
1/4 cup (1/2 stick) butter, softened
4 oz. (1/2 package) cream cheese, softened
1 tsp. pure lemon extract
1 cup crushed peppermint candies
Instructions
Mix flour, ginger, cinnamon, baking soda, nutmeg and salt in large bowl. Beat butter and brown sugar in large bowl with electric mixer on medium speed until light and fluffy. Add molasses and egg; beat well. Gradually beat in flour mixture on low speed until well mixed. Press dough into a thick flat disk. Wrap in plastic wrap. Refrigerate 4 hours or overnight.
Preheat oven to 350 degrees. Shape dough into 1-inch balls. Roll in granulated sugar. Place 2 inches apart on ungreased baking sheets.
Bake 8 to 10 minutes or until edges of cookies just begin to brown. Remove to wire racks; cool completely.
For the Lemon Creme, mix marshmallow cream, butter, cream cheese and extract in medium bowl until well blended. To assemble whoopie pies, place about 1 tablespoon filling on the flat side of 1 cookie. Top with a second cookie, pressing gently to spread the filling. Repeat with remaining cookies. Roll edge of cookies in crushed candy. Store whoopie pies between layers of wax paper in airtight container in refrigerator up to 5 days.
Tips on How to Crush Peppermint Candies: To make 1 cup crushed candies, you will need about 50 peppermint candies. Place peppermint candies in large resealable plastic bag. Close bag. Pound with rolling pin or heavy skillet until coarsely crushed. Or, process in food processor using on/off pulsing action.
Source: Adapted from McCormick
More delicious food for parties