Holiday coffee with spiced whipped cream
Serves 8 people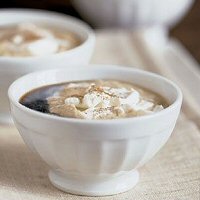 Ingredients
2 cups heavy cream
1/2 cup plus 1 1/2 Tbs. sugar
6 Tbs. mulling spices
6 cups freshly brewed hot coffee
1 cup brandy
Instructions
In a small saucepan over medium heat, combine the cream, 4 Tbs. of the sugar and the mulling spices. When the cream starts to bubble around the edges, remove the pan from the heat and let stand for 10 minutes.
Strain the cream mixture through a fine-mesh sieve into a metal bowl and refrigerate until thoroughly chilled, about 1 hour. Using a whisk, beat the cream mixture until stiff peaks form.
Divide the coffee and brandy among 4 large coffee mugs or bowls, add 2 tsp. sugar to each and stir to combine. Top each with a large dollop of the spiced whipped cream and serve immediately.
Source: Recipe adapted from Williams-Sonoma Kitchen.
More delicious food for parties