Chinese-style crescent purses
Serves 12 peices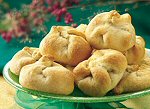 Ingredients
1 6-oz. can crabmeat, well drained
2 Tbs. grated parmesan cheese
2 Tbs. sharp process cheese spread (from jar or container)
1 Tbs. fresh parsley, if desired
1/8 tsp. ground red pepper (cayenne)
1 clove garlic, finely chopped
1 8-oz. pkg. crescent rolls
Instructions
Heat oven to 375 degrees.
In a small bowl, mix all ingredients except dough.
Unroll dough into large rectangle; press into 12x9-inch rectangle, firmly pressing perforations to seal.
Cut rectangle into 12 4-inch squares.
Place about 1 tablespoon crab mixture on each dough square.
Bring all sides together in center; press to seal.
With fingers, pinch dough firmly about ¼ inches below edges, making a pouch with points extending over top.
Place on greased cookie sheet.
Bake for 12 to 17 minutes, or until deep golden brown.
Immediately remove from cookie sheet.
Serve warm.
Source: Adapted from Adapted from Holiday Baking, by Pillsbury and photo by Pillsbury
More delicious food for parties