Baked Apple Wedges with Whole Wheat Streusel Topping
Serves 8 people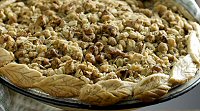 Ingredients
4 large Golden Delicious apples, peeled, cored, and cut into wedges,
2 Tbs. fresh lemon juice
Streusel Topping
1/2 cup (1 stick) unsalted butter, softened
1/2 cup firmly packed light brown sugar
1/2 cup whole wheat flour
1/2 cup all-purpose white flour
1/2 tsp. ground cinnamon
1/4 tsp. ground nutmeg
1/2 cup broken walnuts
1/4 cup raisins
Heavy cream, vanilla ice cream, or vanilla yogurt, optional toppings
Instructions
Heat oven to 350 degrees. Lightly butter a 13 x 9-inch baking dish. Arrange the apple wedges in a single layer in the baking dish.
Prepare streusel topping: In a large bowl cream the butter and brown sugar until smooth. In another bowl, stir the whole wheat flour, white flour, cinnamon and nutmeg until blended. Add flour mixture to the butter and work in with a fork or fingers until the mixture is crumbly. Add the walnuts and raisins.
Squeezing the streusel topping between your fingers, distribute it in clumps evenly over the apples.
Bake in preheated oven 30 minutes or until the streusel is browned and crisp. Serve warm with heavy cream, vanilla ice cream, or vanilla yogurt spooned over each serving.
More delicious food for parties