Progressive Dinner Parties for Fun with Friends
By Debbe Geiger
As an award-winning "event architect," in Austin, Texas, Hope Lawrence knows it's the details that count when it comes to pulling off a spectacular party. But when she wants to entertain at home, this busy wedding planner's idea of a good time is much more relaxed.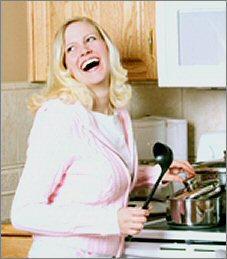 Several times a year, Lawrence and her husband Brad get together with close friends for a progressive dinner. Rather than one person taking on all the chores, each couple prepares and serves a course in their home, whether it's cocktails, appetizers, salad, the main meal, or dessert.
The journey from house to house is part of the evening's fun. "If you're friendly with your neighbors you can do the progressive neighborhood walk," she says with a laugh. "If you would rather do it with friends who live some distance apart, you can go the luxury route and hire a driver for the evening."
GREAT WAY TO MAKE NEW FRIENDS
Lawrence started the tradition of progressive dinners after moving to her neighborhood three years ago. "We figured it was a good way to introduce ourselves." Since Austin is famous for its warm, pleasant evenings, and many families have beautiful outdoor rooms complete with amazing views from their decks, Lawrence says it's a great way to spend an evening. "It doesn't require anybody to be in the kitchen for very long.
"Often you walk from place to place with your glass of wine in your hand. It can be super casual, which is the absolute opposite of many of the events I plan. That's why I love doing them so much."
More delicious food for parties