Pretty and easy puff pastry shell desserts
Buying frozen puff pastry is among our favorite guilty pleasures! Preparing puff pastry from scratch is a lot of work. So we're all for heading to the supermarket and buying it ready-to-go.
Use puff pastry in the form of sheets or individual shells. It's easy to use and forms the basis of many beautiful desserts.
Here are four different, simple, and very impressive fancy desserts that you can make using frozen puff pastry shells.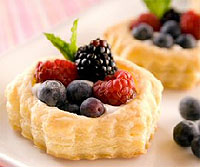 Vanilla cream and berries in puff pastry shells
Serves 12
2 (10 oz.) packages frozen puff pastry shells
8 oz. cream cheese, softened
½ cup sugar
4 tsp. vanilla
1 cup whipping cream
Heat the oven to 400° F. Bake, cool and remove the "tops" of the pastry shells according to the package directions.
Cool baked pastry shells.
Beat cream cheese, sugar and vanilla until smooth and creamy.
Whip cream until stiff peaks form.
Gently fold whipped cream into cream cheese mixture.
Cover and refrigerate until ready to serve.
Fill or pipe cream mixture into pastry shells just before serving.
Garnish with fresh raspberries, blueberries, blackberries, and/or sweetened strawberries, as desired.
Note: To soften the cream cheese, remove the wrapper and place the cream cheese on a microwavable plate. Microwave on HIGH for 15 seconds or until it's softened.
More delicious food for parties