Prepare the ultimate filet mignon for two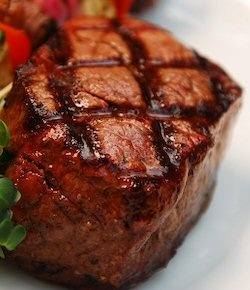 Here's how to bring the ultimate luxury to your table for a Valentine's Day dinner that you and your special someone likely will never forget.
The famous New York butchers, DeBragga and Spitler, just announced that the company is offering the same luxury meats that they sell to internationally famous restaurants such as Restaurant Daniel, Le Bernardin, Momofuku Ssam Bar, Craft and Craftsteak, and the BLT group.
The renowned butcher store has put together a "Do-it-yourself Dinner Kit for Valentine's Day." The $120 package, which serves 2 to 4 people, includes "fois gras terrine, hand select filet steaks from the tenderloin...Black truffle butter, veal glace and Fleur de Sel."
Cooking instructions for the certified Angus filets are included, along with serving suggestions. For more information about the Valentine's package, and other types of top-tier offerings, see DeBragga.com.
If you are cooking a meal like this at home here are recipes for classic Bearnaise and Port wine sauces for the filet from the company's Web site:
Bearnaise sauce
2 shallots, minced
1 cup dry white vermouth wine(inexpensive, but drinkable)
1/2 cup white wine vinegar
3 egg yolks
1/2 lb. of butter melted and clarified
3 sprigs fresh tarragon leaves, removed and minced
White pepper and salt
one bain marie (or a pot of simmering water into which you can float another smaller pot)
Directions
combine shallots, tarragon, 1/2 teaspoon white pepper with wine and vinegar into the smaller of the 2 pots of the bain marie
Reduce liquids directrly over medium high heat until ingredients are just moist (yes, almost entirely reduced). Allow to cool (this may be done earlier).
Whisk egg yolks with 2 tablespons of water and the cooled reduction mixture ( shallots, tarragon...) in the small saucepan and place over slowly simmering water.
Whisk continuously while the mixture thickens into a creamy state.
When the sauce easily coats the back of a spoon, slowly add the melted butter again whisking while adding.
When all the butter is incorporated, remove from heat, add the remaining tarragon and season to taste with salt
Serve immediately.
***Hint: if the sauce is cooking too quickly, it will start to curdle (the eggs are solidifying) and begin to resemble scrambled eggs. Remove immediately and whisk in 2 to 3 tablespoons of cold water VIGOROUSLY. It should reliquify.Proceed from there.
Port wine and truffle sauce
1 shallot, minced
1 cup port wine(inexpensive, but drinkable)
1 cup veal demiglace
3 Tbs. black truffle butter
Directions
Melt one tablespoon of black truffle butter in a 1 quart saucepan.
Cook shallot over medium heat until deep golden brown.
Add port wine and reduce over high heat by 1/2.
Add demiglace and reduce by 1/2 again over medium heat.
Remove from heat and whisk in remaining 2 tablespoons of butter. Season and serve.
***Note: For a richer sauce add another tablespoon of the truffle butter
You might also enjoy:
More delicious food for parties