Party on a budget: Affordable party ideas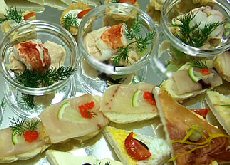 High tea or Tea reception--from 2 p.m. to 4 p.m.--Teas are suddenly trendy again, and can present the opportunity for more formal, but still easy and budget-friendly entertaining. Cut-out shaped sandwiches, miniature quiches, small pastries and cookies, coffee and tea, and perhaps wine, will make it elegant.
Hors d'oeuvres and cocktails or Cocktail reception--Casual holiday parties may be called for 5 p.m. or 6 p.m.--Serve passed or stationary hors d'oeuvres and perhaps a limited buffet. If you don't want a full bar, serve a tasty champagne alternative, or wine and/or beer, and perhaps a signature cocktail./p>
Cocktails and dinner--5 p.m. or 6 p.m. to 8 p.m. or 9 p.m.--This entertaining option costs the most--in both time and money. If you invite people for cocktails and dinner, expect to host an hour of extensive hors d'oeuvres and drinks, followed by a full, sit-down or buffet dinner.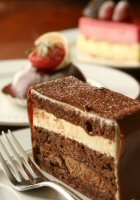 Light hors d'oeuvres or Refreshments--7 p.m. and later--If you're saying "light hors d'oeuvres" or "refreshments" on your invitation, your guests should expect to have had dinner before they arrive. What to serve? Think nibbles. Cheese and crackers; vegetables or chips and dip; regular or spiced nuts, cut-up fruit and cookies, plus coffee and tea.
Desserts or Dessert reception--7 p.m. to 10:30 p.m.--An invitation for dessert implies a lavish spread of cakes, pies, and fancy pastries; fresh and dried fruit, perhaps a chocolate fountain, or ice cream and sundae toppings. You may want to serve dessert wines and cordials along with coffee and tea.
You might also enjoy:
Comments
To comment, please Login or Join
More delicious food for parties