Party on a budget: Affordable party ideas
By Carole Jace
Fashionable parties no longer mean serving full-course meals. Today, when both time and money are at a premium for most of us, it's just wonderful to get together at any time of day to celebrate with family and friends.
Here are some great options, plus tips on how to word the "Come for......" on your party invitations so guests will know what to expect in the way of party fare.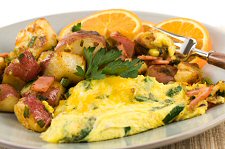 Breakfast--8 a.m. to 11 a.m.--The easiest solution: Offer assorted yogurts, muffins, bagels, butter and cream cheese, jams, cut up fruit, juices and coffee.
Brunch--from 11 a.m. to 2 p.m.-- Consider omelettes, light salads; quiche; sandwiches or deli platters; pastries; soft drinks and coffee. Sunday brunch is always festive. Offer several alcoholic beverages, such as Bloody Mary's or Mimosas. Non-alcoholic punch is always a great addition.
Lunch--usually from noon to 2 p.m.--Keep it easy with trays of assorted sandwiches or wraps; platters of meat, cheese, prepared salads, breads and rolls. For an outdoor party or business event, consider individual baskets or boxes containing sandwiches, small salads, easy-to-eat fruit, and brownies or cookies. Have soft drinks available.
Luncheon--usually noon to 3 p.m.--The word "luncheon" implies a more substantial, sit-down meal. Beverages would include soft drinks and wine, plus coffee and tea.
More delicious food for parties