Hiring a band: live music for events
By Debbe Geiger
What's a party without great music? If you can't imagine that scenario, then you know how important the musicians you choose are to the success of your event. Select the right band is one party-planning task that's well worth the time and effort it takes, since entertainment can comprise a big portion of your special occasion budget.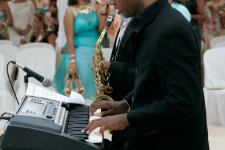 The cost of a band generally ranges from $2,000 to $8,000 depending on where you live, how many members are in the band, their popularity, and the time of year. Here's a rundown of what you need to consider to hire the right band for your celebration.
Experience is essential
References are important, but they're not enough. You need to ensure that any group you are considering suits your family, or your business, or the nature of the fundraiser your organization is planning.
The first questions to ask should be about the band's experience: How long has the group been together? Is there a full-time band leader? How many events do they perform at each year that are similar to the one you are planning?
"A band has to comply with all the requirements of a specific event," stresses Helena Wolfand, manager of the five-piece Grand Avenue Band in Cleveland, OH. For example, she notes, it's helpful if they've worked at your chosen venue and with other participating vendors. They should be familiar with music to play before and after any entertainment, speeches, or announcements.
Choosing a band that's experienced in special events is also essential if you want guests to be able to have conversations! Club bands often blast music so loud that people have to shout directly into each others' ears to be heard. "An experienced party band knows how to position amplifiers to help ensure that the music is aimed mostly toward the dance floor and doesn't overpower the rest of the room," says Wolfand.
Watch them perform
Many bands hand out performance DVDs or audio CDs with their promotional packets; that's not enough to make an informed decision. "Go see the band perform," stresses Wolfand. "Sometimes the CD or DVD doesn't tell the whole story. You want to see them in the room's environment." This is especially important if the environment happens to be your venue.
Make sure they are versatile
Most of us have distinct music preferences. For large events, however, it's important to consider the tastes of all guests. "It's crucial to hire a band that plays hits from the Big Band swing era of the '40s as well as today's hip-hop hits," says Ceasar Cabral, band leader of the Studio C Band, a Boston-area band that has been performing for more than 17 years.
Of course It's important to please the host or the guest of honor. However, Cabral emphasizes, "you want everyone to walk away having had a great experience."
Determine how the band works with clients
Some bands sit down with their clients to review their general music preferences, requested songs, special announcements to be made during the evening, etc. Others send out questionnaires several months in advance of each affair. Be sure you're comfortable with the band's approach.
More expert advice and party planning tips