Planning a ballerina birthday party
By Debbe Geiger
Dancing is a great way to help instill the love of physical activity and the expression of creativity in children. It's also a great theme for a kids' birthday party, especially if you have a budding ballerina in your midst.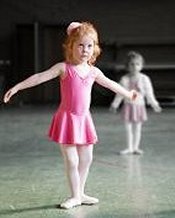 Today, dance-inspired birthday parties are all the rage, and dance centers across the country are responding to the demand. "We had so many requests for parties that we created the whole program," says Rachel Gary, events coordinator for the Hartt School Community Division, part of the University of Hartford in Connecticut. "They've really taken off," she says of the ballet, jazz, hip hop, and musical theater-themed birthday parties they started offering earlier this year.
Birthday parties for future ballerinas are the most popular, and typically range from 90 minutes to two hours. Depending on the particular dance studio, parties are usually offered for children between the ages of three and 12. In addition to a 30- to 45-minute ballet class, a studio may add some personalized touches. Taking the guests' age into consideration, that may offer story time, princess tiara craft, dress-up in ballerina costumes, or dance-inspired games. However, whatever the extras may be, the main ingredient is always dance.
"We focus mostly on the dance; the learning of the dance, teaching them what dance is about, and teaching them a routine at the end for the parents to watch," says Dina Giordano, artistic director for the City Dance Center in White Plains, New York.
Rather than being strict about it, she notes, the emphasis is on fun. "We tailor it to the children. We ask them what type of music they want us to play, and we ask if they want to help run the games or participate in them. The kids love that. It gives them control over what they're going to do that day."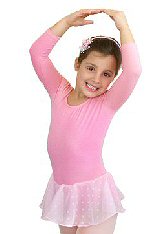 Planning the Mini-Recital
If you're interested in hosting a ballerina-inspired birthday party for your child, be sure to choose a reputable dance school with professionally trained teachers who are used to working with children, says Marjorie Bolokowski of the California Ballet School in La Mesa, California, which has been offering ballerina birthday parties for the past five years.
"It's always better if they are going to a studio rather than having someone come to their house. You won't get the same quality environment and dance instruction. We are equipped with the proper flooring and equipment. The children get to see what it's like coming to a regular ballet school, and the parents do too. It lends to the whole ambience of the party."
Other considerations
Cost - Determine what you want. Generally, prices range from $175 for 10 children to $300 for 15 children, but all parties are not created equal. Some include everything you need, such as invitations, decorations, craft, party, pizza, drinks, cake, paper goods, thank you cards and goody bags. Others only include the dance class; parents must provide everything else. Be sure to ask what is included before booking the date.
Advance booking - Also find out how far in advance you need to make your arrangements. Dance schools may request anywhere from one week to several weeks' advance booking, depending on how many days each week they hold birthday parties. Some only book parties on the weekend; others offer dance parties during weekday mornings and afternoons.
Number of children - How many children you can invite also depends on the place you choose. Some dance schools request a minimum of six to 10 children; but many can accommodate more. "We have a limit of 12 children for classes," says Gary. "More than that and it gets difficult to keep them under control and following the class dance instruction."
What the kids can wear - While some ballerinas have their own dance costumes, complete with tutus, others don't. If the kids have leotards or gymnastics outfits, that's fine. The dance instructors agree that kids should come dressed in comfortable clothing. If they don't have ballet slippers, let the moms know that their children will need to take off their shoes and socks during the dance instruction part of the party. Bare feet are safer than socks; sliding around in socks alone can cause kids to slip and fall.
Easy decorations - Some dance studios decorate a separate room for kids'birthday parties. If they don't, it's easy to add your own embellishments with readily available items from party goods stores. If ballet-themed party goods aren't on the shelves, pink or lavender paper plates, plastic cutlery, paper cups, and napkins are perfect. Matching streamers, a "Happy Birthday, Ballerina Girl" banner that you purchase or print from your computer, a ballerina centerpiece for the table, and some pink and lavender "Happy Birthday" balloons, and glittery paper tiaras should help make the prima ballerina and her corps de ballet feel like they're dancing on a cloud.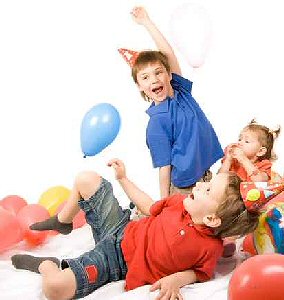 You might also enjoy:
More ideas on creating kids' and teen parties