Plan the perfect company holiday party
By Debbe Geiger
As the holiday season heats up, so does the office party schedule. Even with a relatively modest budget, you want your company's party to be memorable. Here's some expert advice: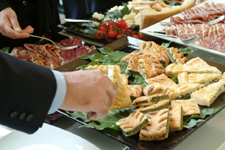 Plan early
If your company is fortunate enough to be able to have an off-site event, selecting the date as early as possible is a good idea.
"The last thing you want is to spend money on a party only to find out your guests have other events to attend," says Mindy Dutka, an event planner and owner of the Event Company in Jericho, New York.
Define your party's purpose
Is it to thank employees? Promote the company? Entertain clients? Or simply to celebrate with co-workers and their families? Figuring out the goal(s) helps you fine-tune the invitation list.
Use your budget wisely
Spend money on what matters most to you and your company. Some businesses want festive decorations and elaborate menus. Others want a simpler approach.
Maybe yours is a company that tries to come up with new and creative ideas, each year. If so, get creative. Rent a bus and tour a local neighborhood with great holiday displays. "Serve food and beverages on the bus and encourage co-workers to sing holiday songs," suggests Phyllis Cambria, author of The Complete Idiot's Guide to Throwing a Great Party (Alpha Books).
Or invite employees to party at a local ice skating rink. Serve hot chocolate and cookies. "It won't cost a million dollars, but it will show that you're taking the time to make it festive," she says.
Pick a theme
Traditional December holidays certainly present the most logical themes for company parties.
For something a bit different, focus on the season rather than on the holidays. Think "Winter Wonderland." It's easy to create a fantasy of frost in a large room at the office, or in a private room at a local restaurant. Simply decorate the room with store-bought branches spray-painted in white and frosted with glitter.
If a global perspective better suits your company, "Holidays around the World" is a great theme, highlighted by an international buffet.
Photo credit: Winter wonderland holiday party by Isha Foss Events
Alternative celebrations
On the other hand, parties needn't always revolve around wining and dining. Take employees to a local production of The Nutcracker, or buy tickets to a holiday pageant.
Get the entire company to donate their time for the day to a charity like Habitat for Humanity. Or do as Cambria's local chapter of the International Special Events Society did one year: They adopted several families through a local charity. They bought clothes and food for the families, along with a Christmas tree and decorations for the gathering at which they distributed everything they had bought.
"It was wonderful," says Cambria. "It really reinforced the spirit of the holidays for all of us."
Remember the real reason for the office gathering
"You want people to feel appreciated, whether they're employees or clients," says Cambria. "The idea is to create a good memory. That way, as the year goes on, they have something they can recall and something they can look forward to."
You might also enjoy:
More business party ideas