Perfect St. Patrick's Day Party
By Corinne Zachary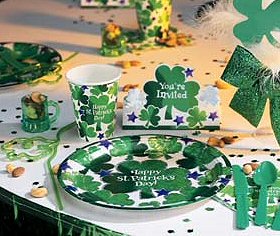 Perhaps you've just decided that a St. Patrick's Day gathering sounds like fun. Or maybe you'll be dressing in green for a friend's party. Either way, it's easy to bring some Top o' the Mornin' cheer to the get-together.
Here are some ideas for a spectacularly simple party, plus some suggestions from Linda Low, owner of Little Shop of Shamrocks, in Islip, New York, for under-$25 gifts that will surely bring a smile to your hostess's eyes–whether she's Irish or not!
Quick Pick-ups for Your Instant Party
Easy décor: Any party goods or drug store will have cute, inexpensive items. Besides green and Shamrock-decorated paper goods, you'll find toothpicks topped with shamrocks or Irish flags, glittery shamrock stickers, and all kinds of low-cost decorative items.
Take-out menu: What would St. Patrick's Day be without corned beef? But if you don't have time to cook it, keep it super-simple: Head to a good deli and buy some lean corned beef (1 lb. should feed 4 to 6 people) and a loaf or two of fresh rye bread. Then simply arrange the corned beef on a pretty platter, put the bread in a basket, spoon some mustard into a small serving bowl, and let guests make their own sandwiches.(OR if you perfer to make a traditional Irish dinner, click here for a complete menu with recipes)
The cabbage component of your non-traditional St. Patrick's Day menu? Store-bought cole slaw. And replace the traditional boiled potatoes with tasty potato salad.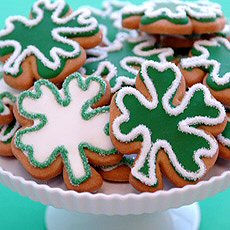 For the purist: If you care to add a more authentic Irish touch to the festivities, consider adding some of the following, all of which easily can be found at gourmet shops and many supermarkets:
An assortment of Irish cheeses such as aged Cahill Farm Cheddar, creamy Cashel Blue, and Dubliner cheese–a mild, nutty Cheddar-like cheese that goes well with apples and grapes (green, of course);
A box of Irish cream crackers;
An assortment of Irish beers, such as Smithwicks, Guinness, Harp, Beaumish, and Murphy's;
Packaged Irish scones, or any type of widely available St. Patrick's Day cakes, cookies, and cupcakes–all predictably decked out in green icing swirls or sugar sprinkles;
And Irish coffee for all: There are dozens of "authentic" or "original" Irish coffee recipes around. Most call for about one ounce of Irish whiskey for each six ounces of hot strong coffee, mixed with 1 to 2 Tbs. of brown sugar, to taste. After the sugar dissolves, gently float fresh whipped cream on top, and sprinkle with shaved chocolate, cinnamon, or green sugar sprinkles, if desired.
Image credit: Decor from ShinDigz and Cookies from The Nibble Blog
You might also enjoy:
More ways to make holidays memorable