Perfect Party Looks For Imperfect Figures
By Karin Greenberg
Most of us are smart enough to know that trying to achieve the pencil-thin runway model look is, at best, unrealistic. At worst, it's dangerously unhealthy. Still, that doesn't stop many of us from bemoaning at least one or two body "flaws" when we stand before full-length mirrors trying on little black party dresses or slinky evening gowns.
David Ostrove, owner of Tallulah, a fashion and accessories store in Woodbury, NY, offers advice on what looks best on short and tall women. He also suggests ways to emphasize our assets or move eyes away from the parts of the body we wish were larger, smaller, trimmer, or tighter.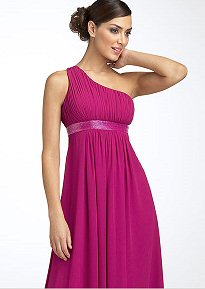 SHORT STATURE:
Try dresses with drop waists and fitted bodices.
Avoid very full skirts with lots of layers.
Stay away from dresses with flounces at the bottom.
Avoid gowns with long torsos.
Your best look: straight skirts or those with minimal flare.
TALL STATURE:
Forgo mini-dresses; they're often not well suited for tall women.
Experiment with different lengths, both below and above the knee; tea-length and floor length skirts and gowns flatter taller figures.
Be daring. Try one-shoulder styles, like the JS Boutique gown, left, backless dresses, and gowns with high-on-the-thigh side slits.
HEAVY BOTTOM:
Stay away from very slim, form-fitting dresses.
Stick with A-lines; they keep attention focused on your top.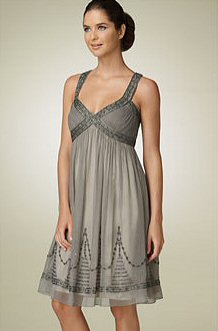 LARGE TUMMY:
Go for a side-draped effect in front, rather than a smooth line of fabric. This will draw attention away from your middle.
Avoid clingy, tight fabrics, which show extra weight. The Adrianna Papell beaded chiffon dress, right, floats right over the tummy.
BROAD SHOULDERS:
Wear spaghetti straps; halter tops, off-the-shoulder dresses; exposing broad shoulders makes them look great.
If you're looking for dresses with sleeves, try to find V-necks; they draw attention inward.
Avoid any garments that have shoulder pads.
UNTONED ARMS:
Wear off-the-shoulder dresses that cover the tops of your arms.
Beautiful necklines are helpful--portrait necklines and collars that frame the shoulders draw the eye up and away from the arms.
Add a jacket with sheer arms to a strapless dress.
Wrap a chiffon cocoon around the top of a strapless dress, keeping the shoulders exposed for a great, sexy look.
Robin White, of New York Dolls in Mt. Kisco, NY agrees with Ostrove that dressing right for your body type can help you look stunning in eveningwear. Her advice for everyone who doesn't have an incredible body: "Your best bet is an A-line dress. This style," she says, "is flattering on almost all body types."
White also believes in letting figure-shaping lingerie "slim you down and hold you in," thereby letting any woman feel better about the way she looks. White says that today's shape-changing garments are more comfortable than they were years ago. Among the effective undergarments: waist slimmers; thigh slimmers; and belly flatteners.
More great ways to look fabulous